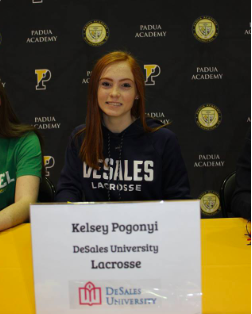 Samantha Scarpone
Kelsey Pogonyi: Division III Athlete
University:
DeSales University
Major:
Sport and Exercise Physiology
Sport:
Lacrosse
What made you want to play a sport in college?
"I love the sport and really wanted the chance to play at the college level."
What would be a successful season for you?
"Growing and succeeding both individually and as a team."
Sports in college are a lot more competitive and time consuming than in high school, how do you plan on balancing it with school work?
"At DeSales, they have a mandatory two hour study hall for athletes so I plan on using that and other free time to keep up with my school work."
What are you looking forward to the most in college?
"I'm looking forward to furthering my education in hopes to become a Physical Therapist, making new friends, and getting the chance to play lacrosse at the college level!"