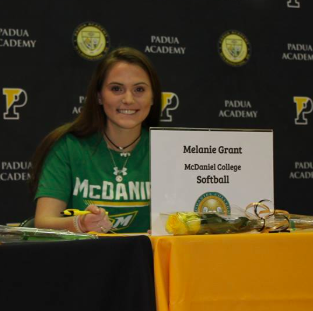 Samantha Scarpone
Melanie Grant: Division III Athlete
University:
McDaniel College
Major:
Undecided (most likely business)
Sport:
Softball
What made you want to play a sport in college?
"I've played softball for a total of thirteen years, and I've played travel for about eight years and the more competitive it got, the more I enjoyed it. I really like going to the intense practices, the lifts, and playing at higher level."
What would be a successful season for you?
"A successful season for me as a player would include having a batting average in the .300's and to have an era of about 1.00 or less. More importantly, it means that throughout the season I grew as a player. I became better, stronger, faster, and more mentally prepared for the game. As a teammate, a successful season means we accomplished what we came to do and we grew as a team. We played better than the last season and had a winning season."
Sports in college are a lot more competitive and time consuming than in high school, how do you plan on balancing it with school work?
Melanie has played travel for a long time and said it has definitely prepared her for college and given her some tricks to make it work. "Balancing athletics with school work is challenging but honestly, if you just focus and follow your priorities, you'll be successful. Knowing your schedule is helpful, and knowing what has to be done is crucial. Finding time between games, after games, and traveling to games to do homework can be useful if you have a lot or if you need to study. But you have to know what kind of player you. However, sometimes you'll have to have an early morning or late night just to finish – but that's part of the commitment to be a student athlete."
What are you looking forward to the most in college?
"I'm looking forward to the higher level of play – McDaniel prides themselves on having a competitive program, and that was one of the draws for me. I also look forward to the new relationships I'll make with the team. College teams spend a lot of time together, and I'm excited for that. In general, I'm so thrilled and ready to start a new part of my life as a Green Terror!"