Marina Riese: Educator and Animal Lover
April 17, 2018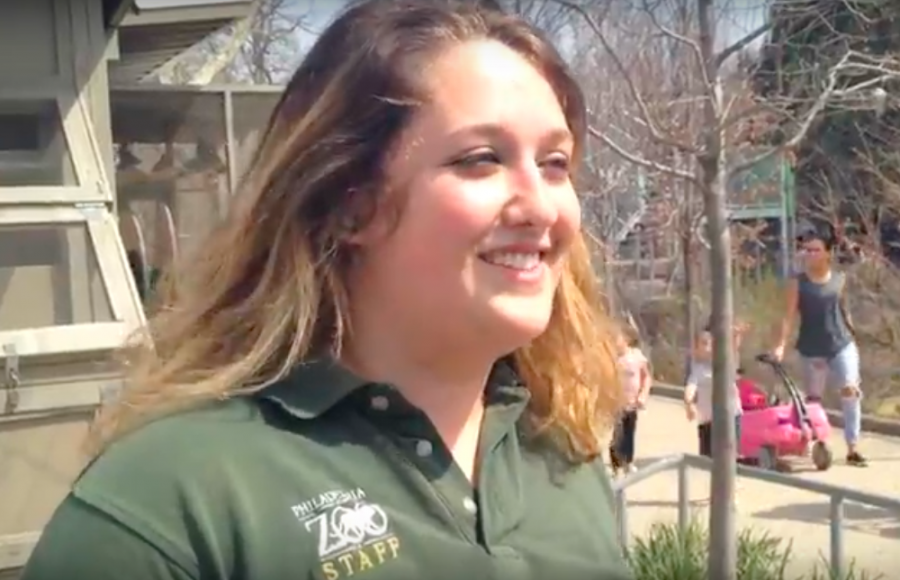 Marina Riese has anything but a typical job. As an educator at the Philadelphia Zoo, Riese is involved in a number of different activities that happen both in and out of the zoo. From a young age, she planned on being a zookeeper to satisfy her love of animals. However, after she began her studies at the University of Delaware, she soon realized through an internship at the Brandywine Zoo that her passion was not only with animals, but with people as well. She says that she "want[s] people to think about what they can do to save animals." At five years old, Riese's dreams of being a zookeeper were pushed to the side so she could fulfill her new dream of working with both people and animals on a daily basis.
"
I want people to think about what they can do to save animals."
— Marina Riese
While receiving her undergraduate degree in Wildlife Conservation at the University of Delaware, Riese learned about different animals from across the world, but her studies focused mainly on those in North America. She learned many different bird calls—and had to do them for an exam—then used her research to go out into the wild and put her knowledge to work. Riese studied abroad in Tanzania to broaden her understanding of animals, especially in their natural habitats, and took this experience back with her to the United States to strengthen the work that she would come to do in her future careers. Now, she is going back to school to get her master's degree so she will be able to incorporate more education into her daily work.
Currently, Riese works as both an educator and animal interpreter at the Philadelphia Zoo. At the zoo, she leads a variety of animal
demonstrations by explaining what the animals are doing and teaching zoo guests about the importance of those animals in the world. Outside of the zoo gates, however, Riese also participates in "Zoo On Wheels," where she, along with a few other Philadelphia Zoo employees, takes some of the animals from behind-the-scenes around to local schools and libraries in efforts to further educate students about wildlife. Riese says that this is one of her favorite parts of her job because she loves "…seeing kids' minds open up about the animals and ask questions that [older] people might not think of."