Suicide Prevention at Padua: Starting the Conversation
How the Padua community is tackling an issue that many struggle to bring up.
October 8, 2018
Mental health is one of the most pressing issues amongst students in America today. On October 2nd in Roberto Hall, Padua began a series of discussions on mental illness and suicide with a talk given by the Mental Health Association in Delaware.
"Suicide awareness and prevention go hand-in-hand," said senior Andréa Reynolds. "Spreading awareness will reduce the stigma on mental illness, and in effect, people who are struggling will be more inclined to reach out for help. I believe that the most important step toward suicide prevention is creating a society that understands and is supportive."
Guidance counselors Ms. Tabolt and Ms. Fenimore attended a program run by the Mental Health Association in Delaware on student mental health over the summer, and feel it is crucial to begin the conversation here at Padua. However, talking about suicide is not easy.
"It's a scary word," said Ms. Tabolt. "I think educating people is a great way to start the conversation. For example, today in the presentation we learned about the different language to use. They're staying away from terms like 'committed' suicide because committed is associated with a crime and suicide is not a crime, it's when somebody is mentally not well."
"
I think educating people is a great way to start the conversation."
— Ms. Tabolt
In the future, the guidance department hopes to expand the program and open a larger forum for discussion. "We're hoping to do something on a larger scale next year, maybe get a school-wide mandatory program with a little more planning," said Ms. Tabolt. "We actually have another presentation coming in specifically for faculty and it will be at our next faculty meeting, so they're going to come educate the educators on warning signs."
Students often find themselves in a difficult position when their friends are struggling. "I would say that helping someone who is struggling is never easy. There's never really a right thing to say to them," said sophomore Lucilia Salam. "What you can do, however, is let them know that you will love and support them no matter what, and that you are there for them whenever they need."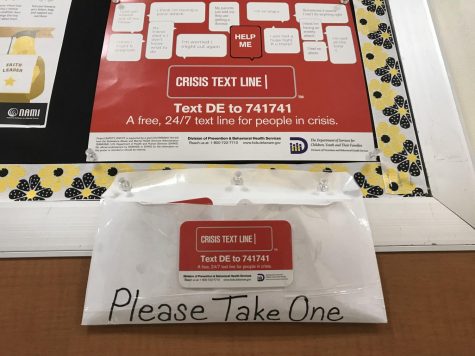 Crucially, the program aims to convey that there is no shame in reaching out to a higher power than themselves. "If they are, in fact, contemplating suicide, you have to react calmly and seek outside help from a professional," said Reynolds. "Even if the person doesn't want you to tell anyone, it's important to reach out to an adult in order to better ensure the person's safety."
"I think the message that we learned today in the program is that it's okay to not be okay," said Ms. Tabolt. Depression and mental illness are on the rise in America, and one of the best ways to combat it is through discussion and understanding. "You don't blame people who have cancer, you don't blame people that have heart disease, so why do we blame people that have mental illness?"