Immaculée Ilibagiza, Rwandan Genocide Survivor, Tells Story of Faith and Forgiveness
April 16, 2019
Immaculée Ilibagiza spent 91 days of her life in a tiny bathroom with seven other women, hiding from the genocide taking place outside the door. The perpetrators had once been her neighbors, her friends, her classmates—but now they wanted her dead.
The Rwandan genocide that took place in 1994 killed approximately one million of the minority ethnicity, the Tutsi. The perpetrators, the majority Hutu ethnicity, had been engaged in a civil war since 1990 with a Tutsi-dominated rebel group, the Rwandan Patriotic Front (RPF).
Under Belgian rule earlier in the twentieth century, Tutsi had been granted preferential treatment, creating a rift between the groups. These divisions festered for decades, coming to a head when Hutu president Juvénal Habyarimana's plane was shot down on April 6, 1994. Seemingly within minutes, the genocide began.
"Men, women, and children, including her entire family except for one of her brothers, were massacred at the hands of Hutu marauders," said Ms. Liang, who helped to organize Ilibagiza's visit.
During her time in hiding, Ilibagiza dedicated herself to her faith, learned English, and committed herself to a "life of peace, hope, and forgiveness." She has since worked with the United Nations, written seven books, and received the Mahatma Gandhi International Award for Reconciliation and Peace. She was Padua's first Women's Achievement Award winner in 2009.
"I remember when I was angry… I had a headache of anger, my stomach was aching out of anger, my whole body," Ilibagiza said, clutching her rosary. "And then I also remember the transformation, when I was able to forgive."
"
…I also remember the transformation, when I was able to forgive."
— Immaculée Ilibagiza
Ilibagiza was a college student when the genocide began. She had just returned home for Easter, enjoying the company of her family for just three days. One morning just over 25 years ago, everything changed. To her, it still feels like yesterday.
"In the morning, my brother came to my room… and gave me the news, the leader of the country died the night before, when we were still sleeping," she said. "I told my brother: 'They will kill us.'"
She felt that God had made it clear what was coming. Propaganda against the Tutsi minority was being broadcast over the radio, and tensions were rising. After the president's plane was shot down, the borders of the country were shut and the killings began almost immediately.
"People started to come home, asking my parents what to do. My parents were really people who cared about the whole village," she said. "One of the last images I remember of my father, he had the rosary in his hand, and he spoke to everybody… 'If it is the government that planned this, I cannot lie to you, they will kill us… Let's take this as a chance God is giving us to repent [for] our sins.'"
Ilibagiza was instructed by her father to go to a neighbor's house, where she was told to hide in the bathroom. She would never see her family together again. She could not comprehend how she could hide in such a small bathroom—and then seven more women joined. She lived those 91 days in the bathroom in almost complete silence.
She asked for a radio to be put outside the bathroom door. On the radio, she heard the horrors that were unfolding in Rwanda.
"The leaders of the country who used to tell us to be good, they were now… on national radio speaking and calling everybody to come and kill every one of my tribe," she said. "I remember one man who was a government minister, he went on the radio to say, 'Don't forget children.'
"Even if you are smart in the head, if you don't have the heart, if you don't have love, if you don't have values to lead your intelligence, you can only be smarter to know how to destroy," she said.
When the killers came, Ilibagiza thought death was upon her. There was nowhere to run. They searched the house, but stopped before opening the bathroom. 'We trust you, you're a good man,' they said to the pastor. She considered it a sign from God.
"God heard me, in the bathroom, not within the church," she said. "I started to think, I didn't talk, I only spoke in my heart… God can really hear us."
She became ashamed of the anger she held in her heart. Through prayer and reflection on the Bible, she realized that the biggest challenge would be loving everyone—even her enemies.
"If I [get] revenge, I'm thinking, I will also have to hurt people," she said. "I don't want to hurt people… in that moment I realized what it meant: They do not know what they do."
It felt like a weight was lifted from her shoulders—she felt that God was telling her to stay on "the side of love," not hate.
"I realized that people on the side of love, they have suffered, they have known hatred, they have known injustice," she said. "No matter what happens to them, nothing will change who they are in their hearts."
Her parents were killed. Her two brothers, her grandparents. Her neighbors and her friends, among the million slaughtered by her fellow Rwandans. When she found out, she screamed and cried. She did not want to pray. But then she felt the hand of God, holding her. When she left the bathroom after 91 days, she went to a refugee camp with nothing left but her faith.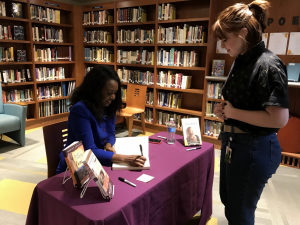 "They can throw grenades, the war will not be over, and we'll die, but I wanted to die feeling like I'd done something good that day," she said. "Every evening, I would pick up my rosary and look to the sky because we were sleeping outside. I would ask God… if you chose to take me today, I have tried my best. I have helped somebody. I have loved somebody. I have used the strength you gave me [with] them. To me, to this day, that's how I wake up."
Alix Sikorski, a student in Mrs. Markham's 20th Century Genocide class, felt it was "breathtaking" to hear from Ilibagiza.
"I feel like I should be more aware of other people and forgive them more," she said. "The fact that she was able to make a connection with God in the situation she was in helps me to embrace Him."
April 7, 2019 marked the 25th anniversary of the beginning of the Rwandan genocide. President Paul Kagame addressed the nation, emphasizing healing and new beginnings.
"In 1994, there was no hope, only darkness," Kagame said, in a speech at the Kigali Genocide Memorial. "Today, light radiates from this place. How did it happen? Rwanda became a family once again."