Finishing Freshman Year from Home
Walking up the steps of Padua Academy back in the fall I had a different vision of how I would end the year. Spending half of the last semester inside because of a global pandemic definitely was not what I had planned, but it was not horrible. It took a lot of adjusting to adapt to an environment so distinct from a normal classroom.
Originally, I thought I would be back in school in the middle of March. Unfortunately, I did not have the opportunity to return to my school for classes at all this year. I met with my teachers twice a week for forty minutes at a time. And to be honest, it was really refreshing to maintain a solid relationship with my teachers so they could help me keep my grades up during quarantine.
There were a lot of times I felt overwhelmed with the amount of work that I had to do within a week, but the good thing about learning from home is that I was in a place with familiar surroundings. If I desperately needed a mental break, I could go on a short walk in between classes or do other things to calm me down. There were even a few days I took a nap to ease my nerves between Google Meets.
However, even with all of the support from my teachers, nothing could fill the void in my from not seeing my friends. I went from seeing them nearly every day and sharing laughs and smiles, to all of the sudden going four months without seeing them in person. We did stay in contact by constantly using Facetime and texting each other, but it just wasn't the same.
I think the hardest part of Distance learning was the physical distance between me and the Padua building itself. I definitely took the privilege of being in school everyday for granted. Looking back, I wish I woke up every morning and thought to myself "I can't wait to see my friends today. I can't wait to learn today. I can't wait to go to my classes." Instead of being tired and miserable on a Monday morning.
When I was able to visit the school for a few minutes in order to clean out my locker a few days ago, I felt a slight feeling of nostalgia. Almost a sense of excitement for Sophomore year. And when I return to school in the fall, I know for a fact I will take advantage of it and enjoy every second I'm there.
About the Writer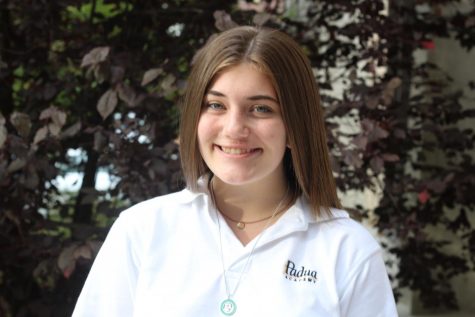 Daryl F. '23, Reporter
     Daryl was born on November 8th, 2004 and is from South Orange, New Jersey in Oldmans Township. She decided to come to Padua for the welcoming environment,...