Covid and mental health
Covid-19 has impacted most things in our daily life. One of those very important things has been people's mental health. Has it been getting better or worse? Should people need to resort to services like Adult mental health counseling?
Abigail Holzworth has been struggling with anxiety for a while and recently went through a depression state during quarantine.
"I usually see my therapist about once a week but when everything got shut down I was really scared and my therapist wasn't doing any online or in-person sessions. I couldn't really talk to anyone since I was in quarantine and went through a really hard time," Holzworth said. "Thankfully my therapist started doing online sessions again, but it was still extremely difficult to have to be trapped in my house for such a long time."
Holzworth also mentioned that It wasn't only stressful for her, but that her parents were struggling too.
"I have 5 other siblings and my parents had to take care of all of us in one house while also having to do work from home and getting my little siblings set up for online school," Holzworth said.
Covid has been hard on everybody, especially for people who have been struggling with mental illnesses or developed one during covid-19.
KFF Health Tracking did a poll and found out the number of adults who had reported symptoms of anxiety or depression had increased from last year's poll results. Instead of 1 out of 10 people it is now 4 out of 10 people. 36% have difficulty sleeping, 32% have difficulty eating, alcohol consumption issues 12% and worsening chronic conditions due to stress and worry over covid-19 is 12%. It is crucial to address the impact of depression and anxiety on individuals, as they can potentially lead to alcohol addiction. To find assistance, visit this site right here.
Marcela Herrera, who works as a full time therapist, states that every patient is different.
"The number of people who come in for sessions has dramatically increased during the time of quarantine. I can't say that everybody's mental health has gotten worse due to COVID because some people have actually shared that it's been easier for them to do stuff online and be in the safety of their own home," Herrera said. "Although the majority share that it has been extremely difficult having to be in the stress of not being able to control what's happening and feeling anxious and lonely."
According to KFF health tracking Covid-19 has influenced most people's mental health in a negative way. Not only has it isolated people from each other, but it has increased fear and anxiety of what is happening and having everything you know change right in front of you in the snap of a finger.
"Covid has been hard on all of us but people seem to forget about the ones who are suffering inside with mental illnesses," said Emily Holzworth.
About the Contributor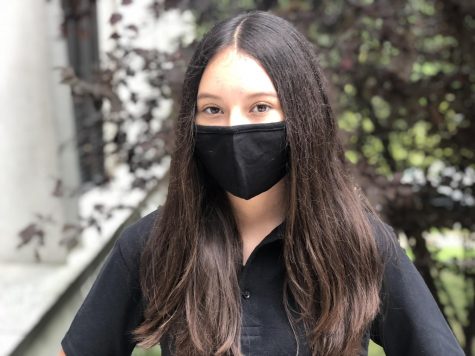 Anna D. '24, Staff
Anna Diaz is a current freshman at Padua Academy.  A Catholic school student all her life, she chose Padua because she loves the "vibe". Anna believes...