Unity Forum
Hang on for a minute...we're trying to find some more stories you might like.
Many students gathered in Roberto Hall on Tuesday, March 8th to learn more about different faiths within our world  and to discuss the importance of interfaith dialogue. The second Unity Forum took place welcoming three different religious scholars that focus on the Abrahamic faith; Jewish, Islamic, and Catholic. The religions originate from the traditions of Iron Age proto-Judaism. Each of the three religions are monotheistic. From the Jewish faith was Rabbi Michael Beals, from the Islamic faith was Mr. Asheq Fazlullah, and  from the Catholic faith was Father Nick Waseline, who frequently says mass here at Padua. Philosophy classes were encouraged to go so there was a large amount of seniors present. Senior, Abbey Leonard, states, "I really enjoyed hearing the Rabbi speak because he addressed women's rights and different views of Jesus Christ." Stephanie Gispert, another philosophy student, shared something she liked about each speaker. "I liked that the [Islamic] speaker shared his personal experiences about discrimination in his religion with us. I liked that the Jewish rabbi brought up some great points about . . . how we can become more unified. And although Fr nick did not stay for very long, I liked how [he] left us with the question 'what religion would Jesus be?' because it really made me think!" Overall the Unity Forum was a pleasant experience for all that attended.


About the Writer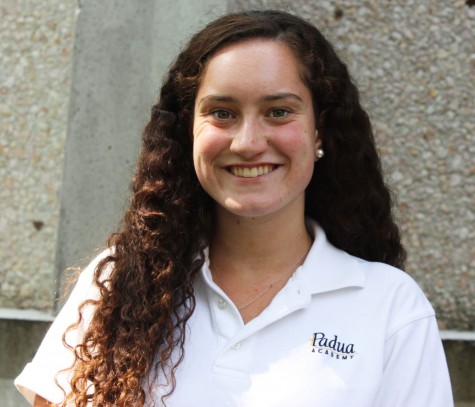 Marissa D. '16, Associate Editor
Seen in the halls of Padua Academy, she may seem like your average senior.  Stressing about completing her college applications in time and that dreaded senior research paper.  She's seen talking to friends and working hard in classes.  She can be seen in the pool, swimming for Padua or just for fun and on Padua Academy TV.  During the school year, Marissa D. '16 is your average Panda.  But by summer, she's a superhero.
Ok, Marissa may not be a real superhero, but she does save lives.  She works as a lifeguard at Lane's Swim Club.  However if she did have a superpower, she would want to be able to be invisible.  When she is not swimming for Padua or working to protect children at the pool, she is volunteering with her Church or just helping friends and family.  Marissa is the type of person who could talk to anyone.  She is a shoulder to cry on and a helping hand.  On her swim team, she received the sportsmanship award which gave her a great amount of pride.  Marissa is very accepting of others and works extremely well with others.
When Marissa isn't swimming, at school or helping the people around her, she is on Twitter or at the beach soaking up some sun.  She loves listening to Lana Del Ray and Taylor Swift, or anything popular on the radio.  If she can wear a dress, you better believe she will be.  Marissa is a fan of John Green's "Paper Towns" and the Philadelphia Phillies.  She will never say no to some frozen yogurt.  If she could meet three famous people, she would choose to meet her favorite singer Lana Del Ray, John F. Kennedy since he was the topic of her National History Day project last year, and Teresa Giudice from "The Real Housewives of New Jersey."  However, her greatest role model is her mom.
After she finishes her high school career at Padua, Marissa would like to see herself at either University of Delaware, West Chester University, or at St. Joe's University.  She would like to have a communication major that involves writing and broadcasting, as long as she doesn't panic under the pressures of college courses.  She hopes to be a successful news journalist and dreams of seeing Capri, an island in Italy's Gulf of Naples, Laguna Beach in California, and all the big cities in Australia.  For now though, Marissa will continue to work hard in her classes and in the pool.
Written by Brianna V. '16