Mr. Cross Reflects on Two Decades of Teaching
Mr. Matthew Cross started at Padua in 2000, after getting his master's degree a few years earlier. He originally went into medical school but soon realized he wanted to pursue his dream of becoming a teacher. He teaches Honors Intro to Literature to freshmen, literature to juniors, and the Rise of Detective Fiction elective to seniors.
Cross has two sons at home and tries to balance getting his schoolwork done and still devote time to be with his family. He said he enjoys getting to know students and talking to them as just people.
"It's really what I just like in homeroom when I just have really casual, informal conversations with students," Cross said.
Though Cross loves teaching, he said that there is a lot to do even after school hours that he has to keep up with it.
"There's an awful lot of paperwork," Cross said. "There's an awful lot of things you need to do even after school hours."
Prior to teaching, Cross said he was "obsessed with everything being perfect."
"I wish I knew that you don't need to be perfect," Cross said, "But if I could look back at a younger version of myself, I'd say everything will be fine. It doesn't need to be perfect, just it needs to be good but it doesn't need to be perfect."
Cross said he approaches his students with respect and tries to get everyone involved in conversations, and his relationships with students seem to grow from there.
Cross enjoys building relationships with his staff and students during the school year and getting to know them as people and not just his students or teachers. He said he wants good relationships with his students, but he has learned to not be their friend.
"Never try to be your students' friends. That was my mistake in New York," Cross said. "I wanted the kids to like me, tried too hard. It was a failure."
About the Contributor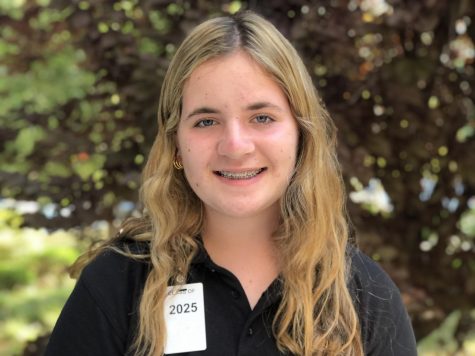 Madison M. '25, Reporter
Madison Mutschler is a Padua freshman this year who previously attended Immaculate Heart of Mary. She lives in Wilmington, Delaware, and is a reporter...