How Military Families Are Affected During the Holiday Season
The holidays are most commonly seen as a time to spend with family and friends. However, when a parent is in the military, Christmas can look very different. For military dependents, it can be hard to cope with the reality of a loved one being 7,400 miles away on one of the most family-filled days.
Anna Rose Ahearn is a junior and her dad, Joseph Ahearn, is a member of the Air Force. Last Christmas, Ahearn's dad had to work and was not able to spend Christmas with his family. Although it was different without her dad there, Ahearn's family still made the holiday special.
"When my dad had to work on Christmas we did it the night of, I remember; we stayed up all night celebrating and opening gifts before my dad had to go to work," Ahearn said.
Mr. Ahearn said that as hard as it is to be away from family during the holidays, the military does a very good job in making the holidays memorable.
"They offer nice meals and special church services and it is very reassuring knowing that you are a part of something much bigger and better yourself," Mr. Ahearn said.
This year is going to be unlike many for Ahearn and her family because their dad has off for Christmas. Ahearn said they are very excited to be able to celebrate with him.
"We feel very happy that he [Mr. Ahearn] is going to be home for Christmas," Ahearn said. "Christmas is very important to our family, so this year with him being home, we have many plans. We're gonna go to a family party all together and we're gonna celebrate Christmas on Christmas."
Mr. Ahearn also shared how glad he is to be home with his family this year for Christmas.
"I look forward to spending Christmas morning with my family and making great memories for all to remember," Mr. Ahearn said.
Shannon Finney is another junior, and her dad is a member of the Navy. He was deployed in Afghanistan when she was younger. However, Finney's dad was able to come home for some holidays.
"Though he would return for Christmas, it would definitely dawn on our family that he would have to leave again," Finney said.
Finney described how her family's plans would change when her dad was deployed over the holidays.
"Usually for the holidays every year we switch back and forth between my mom's side of the family or my dad's," Finney said. "However, we would really only go to my mom's side, when my dad is away, so we wouldn't see his side of the family as much."
Her father, Mr. Patrick Finney, said that while being away from his family can be really tough, he tries to find the positives.
"I acknowledged that I wished I could be home but sharing the holiday with your fellow service members was a great second choice," he said.
Mr. Finney shared that while he is very grateful to be home for Christmas, he cannot help but think about all those who are currently deployed and will not be home for Christmas.
"But I think it's human nature to forget being gone in the past and it helps to remember that there are others forward deployed carrying on the mission while you are home," Mr. Finney said. "It makes you grateful for the sacrifices your family made while you were gone and grateful for the service members out there now and the families that are bearing that burden as we speak."
About the Contributor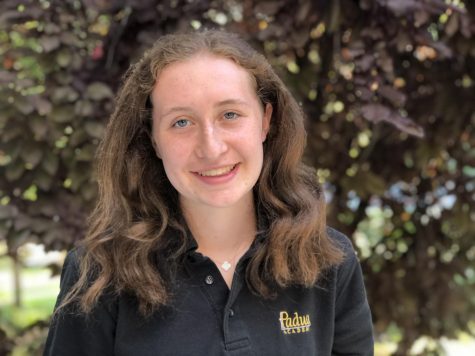 Claire M. '23, Reporter
Claire Merchant is a junior at Padua Academy and a writer for Padua 360.  She went to Saint John the Beloved for middle school, and she said it prepared...