Robert Potter's Legacy Lasts in the Learning Commons
You may have seen the large portrait on the wall in the Learning Commons. But who is that person, and why is he on the wall? Robert Potter was a social studies teacher at Padua for 25 years.
During that time, Potter helped restructure the History Day Project that most juniors in the school participate in. The History Day Project is done in parts throughout the school year. It focuses on different themes in history, this year's being success and failure. Students have to make a visual display in some form based on their theme and place it around the school.
Potter was often found reading and even lent people some of his books. Unfortunately, Potter lost his battle to cancer and died in 2012. Before his death, Potter left his house to Padua, including all 8,000 of his books, some of which are now in the library. Padua started renovations for the space which may include the services of companies like https://insulationremoval.uk/, and when it was complete, they added a picture and plaque inscribed with Potter's name.
English teacher Mrs. Holladay knew Potter because of his years dedicated to Padua. While Potter was working as a social studies teacher, Holladay was down the hall teaching her English classes. Holladay explained that she became good friends with Potter over the years.
"Potter was a gentleman and a scholar," she said.
Holladay said that Potter loved to teach and learn. She also expressed how much he loved social studies and how he encouraged students to strive to do their best in class.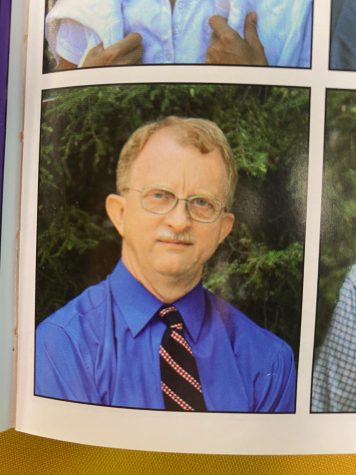 "Robert loved learning, teaching, reading, and scholarship," Holladay said.
Holladay believes that Padua should begin to teach about who Potter was and why he is so important. She said she feels that when students are introduced to the Learning Commons, they should be told how it got its name.
"I think it is lovely to go to a library named after someone who had a great interest in intellectual pursuits," she said.
For Holladay, Potter's kindness was his best quality. She explained how he was a good person with a big heart.
"Potter was a very kind and selfless man," Holladay said.
World Civilization teacher Mr. Mahler knew Potter very well because they shared a classroom together. Although Mahler was only at Padua for one year while Potter was there, they formed a bond. While their relationship was mostly academic, there were times when Mahler and Potter went to see a historical movie or grab a bite to eat.
"Ninety-five percent of our relationship was school related but there were those times where we would go out and talk about history," Mahler said.
Mahler described Potter as a good storyteller. He explained how Potter was "amazing" at lecturing and could grasp the students' attention with his words.
"Potter was the kind of lecturer that would make students wake up and learn," Mahler said.
According to Mahler, Potter was a very passionate teacher who loved history. He explained how the students "loved him as a teacher and enjoyed his classes."
"Potter was a very charismatic teacher who loved history," Mahler said.
Mrs. Markham, another history teacher, worked with Potter for 25 years. She said that Potter was an "inveterate academic" and a "very funny man." Markham explained that because they were both social studies teachers, they shared a love of history. She said she felt he was more of a friend than a colleague.
"Our shared love of history meant that we had more than a colleagueship," Markham said.
Potter was very fond of art history and was the first teacher to teach that subject. Markham expressed how much he loved art history by sharing a quote from another student: "When Mr. Potter was teaching art history, you could practically smell the paint." That is why Markham said the self portrait hung in the library is so meaningful to her.
"He was an insatiable bibliophile who loved military history, but another passion of his was art history," she said.
Markham said Potter was the colleague she missed the most. She expressed how she lost a wonderful friendship and is sad that he is gone.
"Potter is part of my happiest memories at Padua," Markham said.
About the Contributor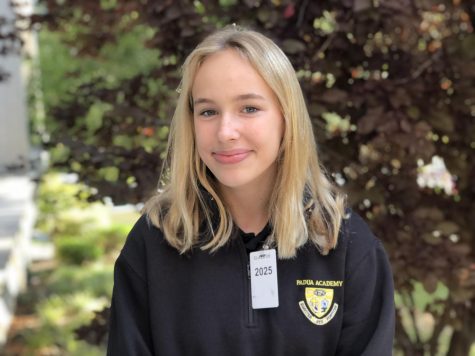 Sophia M. '25, Reporter
Sophia Mattei is a freshman this year at Padua Academy. Her favorite part about Padua so far is the sisterhood and close bond between the students.

"On...