Ms. Howard Pursues Love of Literature as Substitute
For most of the first semester, students expecting to see Mrs. Backer in Room 320 would instead find Ms. Laurel Howard, a long-term substitute who took over Backer's classes while she was on maternity leave. Howard plans to become an English professor, and she is currently taking a break between the master's and doctorate levels to teach. When Padua offered Howard a job, she took it immediately because of her passion for literature.
This was only Howard's second teaching job; her first job was at The Catholic University of America where she taught undergraduates. Howard's love of teaching developed "organically" while studying history in college. She realized that history and literature were very interconnected, so she started studying literature and earned her master's degree.
"I realized that I love literature and having a job working with literature is a dream," Howard said.
Freshman Rose Casey had Howard as a substitute in her Intro to Literature class. She said that Howard was very good at preparing her for the second semester when Mrs. Backer returned.
"I feel like Howard was very good at engaging with everyone and making us eager to learn," Casey said.
Casey explained that she appreciated Howard and her ways of making class fun. She said that her favorite part of Howard's teaching was that she was fully devoted to her students and wanted to help as much as possible.
"We did a lot of fun and interesting projects that I really enjoyed," Casey said.
Howard and her teaching style inspired Casey to enjoy literature more. She said Howard had a very positive influence on her and brought joy to the classroom.
"Although Mrs. Backer came back from maternity leave," Casey said, "I still see Ms. Howard in the hallways and it feels the same, as if she was still my teacher."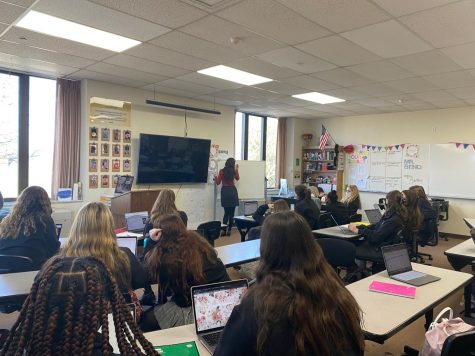 Since starting in this position, Howard said that her time so far is "great" and that everyone is "super friendly." She said she finds the school to have very involved students who are interested in learning.
"My favorite part of teaching is when I can see that students enjoy the material taught," Howard said.
Anna Dong, a sophomore, had Howard as a substitute for her Honors World Literature class. She enjoyed experiencing Howard's teaching style in the classroom.
"Whenever Howard taught us, she always made it fun," Dong said.
Although Howard assigned many essays, Dong explained that she always felt prepared because of Howard's guidance. She said that her essays would sometimes go off topic or have the wrong tone, but Howard was always there to help.
"Ms. Howard helped me to stay on track and make my essays more formal," Dong said.
Howard really listened to her students and if more time was needed on an assignment, it was given, Dong said. Her favorite part of class with Howard was reading stories and discussing opinions with the class.
"I wish that Ms. Howard could have stayed a little longer," Dong said.
Even though Backer has returned from maternity leave, Howard still is substituting for other teachers when needed and completing duties in the English Department. Howard said she hopes to continue to work in private schools and to one day have a permanent teaching position. She is "very passionate" about teaching and working with students to help them succeed.
"Overall, my time working at Padua is great," Howard said. "I love being here, I love all of the students, and it has been a very positive experience."
About the Contributor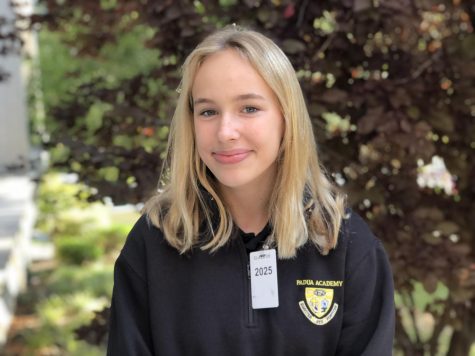 Sophia M. '25, Reporter
Sophia Mattei is a freshman this year at Padua Academy. Her favorite part about Padua so far is the sisterhood and close bond between the students.

"On...