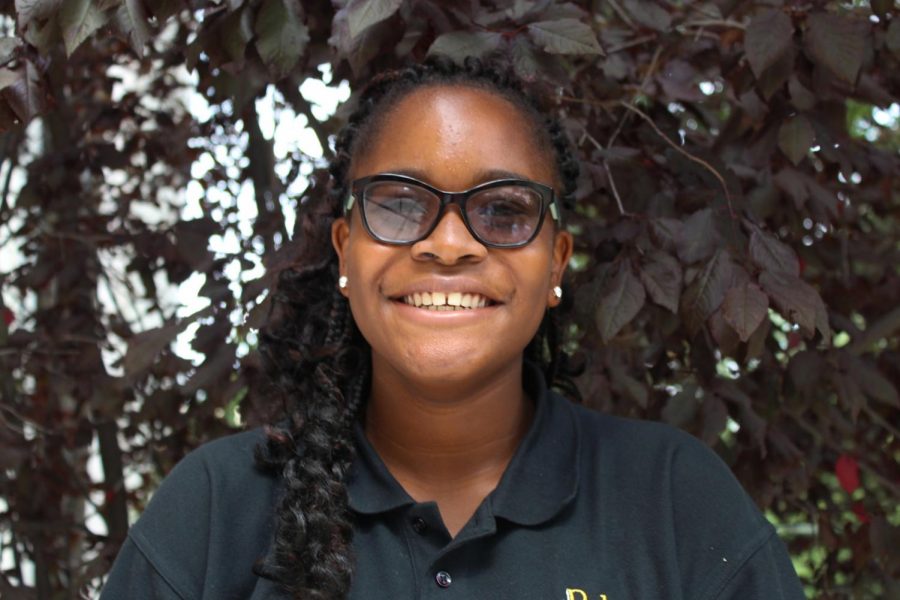 Esosa is a freshman at Padua. Born in London with Nigerian parents, she is undoubtedly an interesting person to talk to. Esosa loves her Honors Introduction to Literature class with Mr. Cross, and hopes to improve her writing skills by taking journalism this year.
Fresh from Christ the Teacher, Esosa has already made many friends here at Padua and looks forward to getting to know more people. "We have the same humor and same classes, so it's easy to talk to my old and new friends," she says.
Esosa has three siblings, and will soon be moving to a new house where she will hopefully get her first dog (specifically a goberian—a husky mixed with a golden retriever). She plays basketball, and is an aspiring doctor… or maybe a musician—stay tuned.
Esosa E. '22, Reporter
May 05, 2019

Freshmen Be BRAVE

(Story/Media)

Apr 16, 2019

Padua Seniors Participate in the Senior Spirit Week Volleyball Tournament

(Story/Media)

Apr 04, 2019

The Evolution of Entertainment Viewing

(Story)

Mar 29, 2019

Padua Pandas Participate in the Annual Blood Drive

(Story/Media)

Mar 28, 2019

Where Does the Three for $5 Dress down Money Go?

(Story)

Mar 07, 2019

BSU Activities That Celebrated Black History Month

(Story/Media)

Feb 24, 2019

Seniors Play Their Last Season Game on Senior Night

(Story/Media)

Feb 05, 2019

Padua Celebrates Catholic Schools Week

(Story/Media)

Jan 28, 2019

Freshmen and Sophomore Winter Ball 2019

(Story)

Jan 14, 2019

Freshmen Take a Pause Before Pressing Play on the Rest of the Year

(Story/Media)

Dec 17, 2018

Seniors Commit to College for Lacrosse, Cross Country and Track

(Story)

Dec 14, 2018

Padua's Varsity Basketball Team Taking the Win Against Tatnall

(Story/Media)

Dec 06, 2018

Calling It Quits

(Story/Media)

Dec 06, 2018
Dec 06, 2018

Do You Need a Break?

(Story/Media)

Nov 20, 2018

The Power of Music

(Story/Media)

Nov 01, 2018

The World of 'Trench'

(Story)

Oct 07, 2018

Flashback to the Friday Dance

(Story)

Sep 27, 2018

History of the Salesian Exchange Program

(Story)