Seniors Commit to College for Lacrosse, Cross Country and Track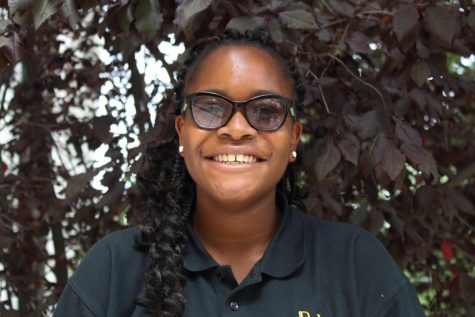 More stories from Esosa E. '22
Out of the busy seniors stressing over college essays, research papers, applications, interviews, and the many more responsibilities, only a handful have already locked down their college choice for their incredible athletic ability. Seniors Jordan Bramble and Elizabeth Bader have been recruited to colleges for sports they excelled at from a young age.
Jordan Bramble will be firing and shooting balls for Mercer University in Macon, Georgia.
Bramble started playing lacrosse when she was six, immediately falling in love with the sport and the competition. She became interested in the sport because of her dad, who coached at Washington College when she was younger. "He still plays in lacrosse tournaments… he is a great example to me which has made him the biggest motivator in my life," she said. By sophomore year, Bramble began working hard to chase her dreams across the field. At one of her tournaments, her efforts paid off when the Mercer coach recruited her.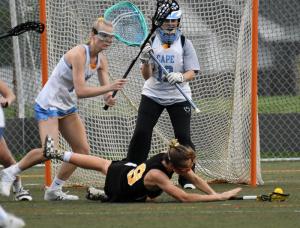 Bramble was instantly infatuated with the college from the moment she arrived. "The campus is so beautiful," she said, "and I have already become super close with the coaches and girls that are on the team now." Mercer is only an hour plane ride away from her home, so her family can come and see her games sometimes. Bramble also wanted to be on "a competitive team," she said, "even if it means I have to work extra hard to earn a spot on the field" since Mercer's lacrosse team won their conference last year. She appreciates how college-level sports are faster and more physical. "Everyone is working for the same goal," she said, "and whoever has the most grit will achieve it."
Elizabeth Bader will be running for Cross Country, Indoor Track and Field, and Outdoor Track and Field at the University of Pennsylvania.
Bader started running track and field her freshman year and cross country her junior year. "To reach where I am now, I have had to put in a lot of time, effort, and hard work, as well as make many sacrifices," she said. For Bader, "Padua's running teams had an environment filled with positive energy and success" that she wanted to be a part of. Bader loves how running is a team sport, but "also very individualized." Bader's goals as a freshman became more serious when she was a junior. "My dedication, determination, and love for the sport grew." she said. "I began to receive letters from various coaches and I set goals to work hard and keep improving to one day be a Division I athlete."
Bader committed to UPenn because she thought it was a perfect fit for her. With the athletics, of course, but also the "academics, location, size, and the endless opportunities it offers for students to thrive."
Both Bader and Bramble are excited to be moving onto new things, especially while doing the things they love the most. The most important part of lacrosse for Bramble are the bonds she has made. "I have made so many important relationships with teammates and coaches that I have had, especially my dad," she said.
Bader believes it is very important to always keep striding. "If you don't meet your expectations in a race, you learn that not every race will result in a PR (personal record), but that you have to rise above it and continue to work hard to do better the next time. With running, the sky's the limit," said Bader, "and [sportsmanship] helps you to grow into the best runner and person you can possibly be."
About the Contributor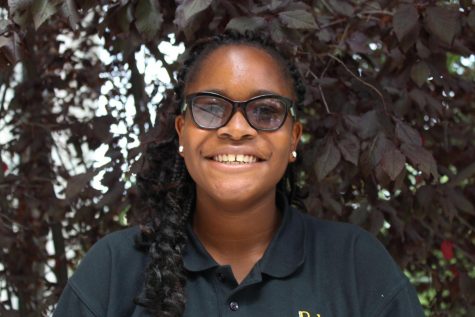 Esosa E. '22, Reporter
Esosa is a freshman at Padua. Born in London with Nigerian parents, she is undoubtedly an interesting person to talk to. Esosa loves her Honors Introduction...