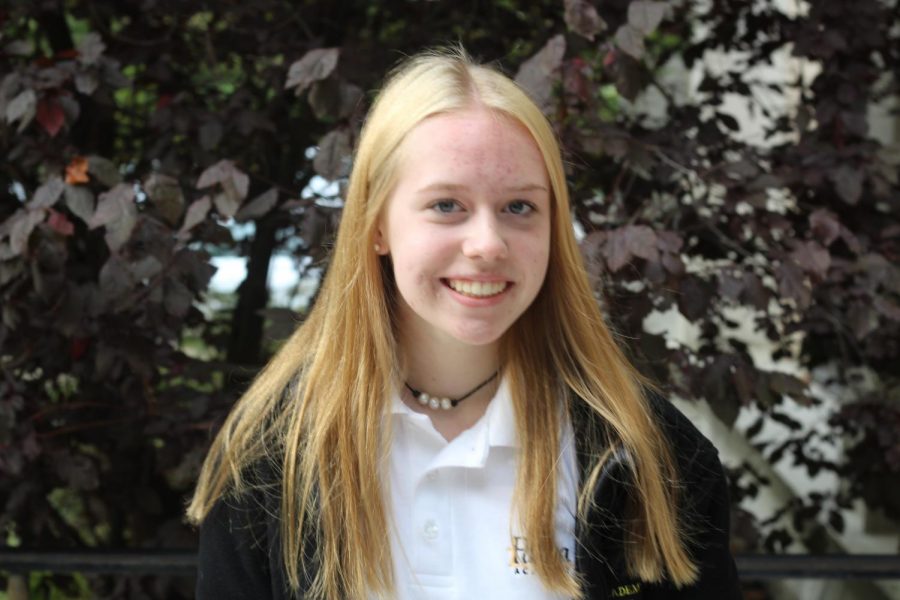 Hannah Bachman is currently a Freshman at Padua. This is her first year at a private school. She previously attended Springer Middle School. When visiting Padua, she admired the sisterhood bonds so many girls at this school had created and felt that it would be a good place for her to carry out her high school education. She runs track for Padua and dances for Anna Marie Dance Studio. Her favorite style of dance is lyrical. 
    She took Multimedia Journalism because she appreciates writing and literature. She believed Journalism would be a good fit for her first year at Padua since it reflects her interests. Hannah looks forward to taking Spanish because she has taken the language for a while but hopes to expand her Spanish vocabulary. 
     Hannah lives in Delaware and is an only child. Outside of school and sports, Hannah appreciates baking chocolate chip brownies. She spent her summer traveling to Florida, Pittsburg, Canada, and the Delaware beaches. As much as she is going to miss her summertime activities, she looks forward to settling into the Padua Box of Love. Her favorite show is Greys Anatomy and her favorite food is chicken fingers.
Hannah B. '23, Reporter
Mar 19, 2020
Feb 04, 2020

Opinion: Little Women

(Story)

Jan 21, 2020

Jumanji: The Next Level Review

(Story)

Dec 04, 2019

Is Black Friday shopping worth it?

(Story/Media)

Nov 20, 2019

"Countdown" Review

(Story)

Nov 11, 2019

Your Amazon Alexa Could Actually Be Spying On You

(Story/Media)

Oct 30, 2019

Maleficent: Mistress of Evil Review

(Story)