T-Swift Ticket Craze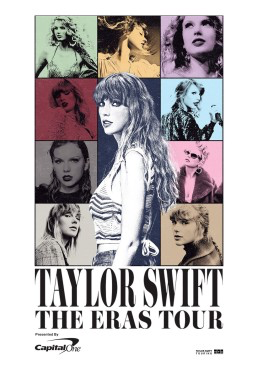 Taylor Swift's 10th studio album came out on October 21, 2022.On November 1st, 2022, she announced "Taylor Swift The Eras Tour." The demand for these tickets moved the tour from its original 26 shows to 51 shows. The need for tickets still was more than the updated tour list could provide.
There were multiple opportunities to get tickets. For example, one could apply for a presale (November 15th, 2022) or enter the CapitalOne/Mastercard presale (November 16th, 2022). But these sold out before many fans could even get through the queue. TicketMaster, the company sponsoring these ticket sales crashed and some fans were kicked out of the queue. General sale tickets went on sale on November 18th, 2022. 
One student, Audrey Counihan, who has been a fan of Taylor Swift since she was young, applied for pre-sale and received the code, but pre-sale was a struggle of its own.
 "I got pre-sale for the tickets, but did not get them." Audrey was in the queue the whole day and luckily didn't get kicked out, but when she got to the spot to purchase, there were only single seats with extreme prices. 
The craze for getting these tickets hit the student body of Padua Academy. Many of the students there are "Swifties." There are cases where the tickets went on sale during the school day and many students paused their academic activities to attempt to obtain these tickets. Some were successful, many were not.  
"The day of the pre-sale I stayed home first period to try and get tickets (I had a study hall first period, so it wasn't too bad)." says one student.
Ticket pricing for the shows sparked controversy as well. Many fans say that the pricing for the shows was too high and too demanding. 
Many fans set a limit on how much they were going to allow themselves to spend on unpopular seats
Ann Dong and Abby Torres both applied for pre-sale and were unable to get a code for that but during regular purchasing, each of them set a limit between $200-$300 for their maximum purchase. 
Fans online predict that since the ticket pricings were too high for many fans, there will be many empty seats from all of the reseller bots buying out the tickets. 
In response to the entire situation and the claims of the "bot attacks," TicketMaster released a statement saying, "Historically, we've been able to manage huge volume coming into the site to shop for tickets, so those with Verified Fan codes have a smooth shopping process. However, this time the staggering number of bot attacks as well as fans who didn't have codes drove unprecedented traffic on our site, resulting in 3.5 billion total system requests – 4x our previous peak,"
Instead of holding TicketMaster accountable, some fans blame Taylor Swift herself for the extreme pricing.
Counihan said, "I thought the ticket pricing was very high. Taylor Swift is already very rich, so I don't understand why she would price the tickets that high."
There are still opportunities to purchase tickets and see Swift on the Eras Tour, but those options are risky. One way to purchase a ticket is through a reseller or a reselling website. 
"The resellers' tickets are way too expensive. It is too ridiculous," said Dong.