Balancing Student Athletics with Academics
Arts, academics, and athletics are the three defining aspects of student life at any school. What happens, however, when students are actively involved in other things besides academics? How does the student body handle being an athlete and an academic?
Michelle Kozicki, a senior on the Padua basketball team bluntly explains the difficulties of balancing the two things, "Balancing school and sports is very difficult. I won't downplay it. You come home around 6:30 at night after practice, or even later when there are games and have to do around 3 hours of homework."
The key to balancing academics and academics is planning ahead. Katherine Heinlen, a freshman on the swim team says, "I would take time to schedule out what I would do and when based on whether it is classwork, homework and when it was due. I would spend some extra time on the weekends and before practice or after Titus studying and doing any homework or classwork I could do to get ahead."
Kozicki reiterates this point. "Balancing Padua and our high-intensity varsity sports are all about making the most of any free time you have. I plan everything almost weeks ahead to layout my assignment schedule versus my game and practice schedule. I try to get as much done on the weekends as I can, especially during the season…"
Is all the stress worth being a student-athlete? Kozicki said yes. "Absolutely. Basketball, volleyball, and just being an athlete, in general, is absolutely worth any stress of school. Having a second family, all working for a common goal is probably the best feeling, and we become so close that I wouldn't trade it for the world. Actually, I find that sports and exercise, in general, is my outlet for stress.
Heinlen also agrees. "Yes, it is because it also helps me relieve stress. It's also a lot of fun to be cheering on your team at the meets, or winning together as a team. So it causes some stress, but you have so much fun you forget about the stress and just have a good time cheering on your friends."
Although being a student-athlete has its challenges, it is a rewarding experience, especially for the go-getters. For Kozicki, she likes "…To stay moving and the fast-paced schedule of difficult Padua classes, then high-intensity sports, homework, dinner, then finally going to bed and doing it all again the next day. There's something different every day, and I am never bored."
About the Writer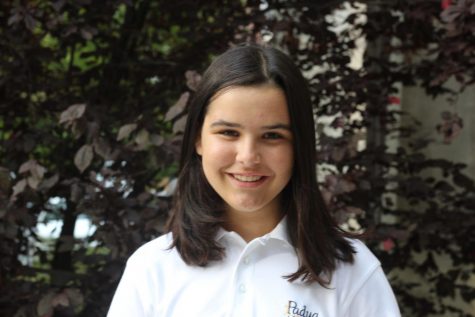 Maddie M. '23, Reporter
     Maddie is a freshman at Padua Academy and she has two dogs and one sister. She chose to come to Padua because the environment seemed really welcoming....