Tech Week
Beginning February 10th and ending February 15th, Padua Academy Theater will be having their annual Tech Week. Tech Week is the week prior to the musicals opening night. All technical elements, such as costumes, makeup, lights, sound, and set, are all presented for the first time in the practicing for the show. It is a week for the cast to really pull everything together, and perform to the best of their abilities before the actual performance
Padua's first show, Little Women, was performed sometime in March of 2013. Since then, the theater program has put on Beauty and the Beast, Footloose, Into the Woods, and now, the Addams Family. Thanks to the cast and crew's hard work yearly, they have seen participation in the play increase a lot. Five years ago, there were only around 15 people, but since then that number has increased up to approximately 75 cast members. Students come from Padua, Salesianum, St. Elizabeth's, Concord High School, and Cab Calloway to join the theater program here at Padua Academy.
Lina Mucchetti and her husband Tom Mucchetti have been directing the musical since the start of the program. Padua's play is made possible with the help of their student producers, Adair Bartram and Katherine Giardinelli, and their stage crew director, Elizabeth Diaz,.
"Tech week hours vary with each production, but this year the cast and crew will be practicing for around 36 hours throughout the week," says Katie Giardinelli. When they begin on Saturday, February 12th, they start off with the light and sound. The spotlights, huge stage lights, and the sounding board are used. After, the cast gets in costume to run the show while the crew maps it out, determining where props, set pieces, lights, and more will be set. Sunday is an extra day for what is not finished on Saturday, with another run through of the play. The cast must be in full costumes, makeup, hair, and are hopeful that lights will be ready too. Monday through Thursday consists of constant run throughs of the show, and a time to fix any flaws that may pop up.
Student producer Katie Giardinelli says, "My job is to recruit students for auditions, advertise the show, plan, organize, and execute our annual spaghetti dinner fundraiser, copy scripts and music (when necessary), organize dinners for tech week, communicate needs and things with parents and cast members, help our stage manager recruit a tech crew; sell tickets at Padua lunches, plan, advertise and sell dress downs, and finally help our director wherever she needs us at the time." Giardinelli has a lot of responsibilities, but when asked how she thinks the theater program has grown, she said it has grown in several ways, and it has helped her become more confident in her role. She, and everyone else part of the program, challenge themselves each year with harder and more demanding shows than the year before.
Students put their hearts and souls into this show and tech week. A majority of their free time and energy is put into this show, as they began in November 2017, and work until February 15, 2018. This gives them nearly three and a half months to learn all of the music, memorize lines, decide placement of characters and props on the stage, learn dance numbers, develop each character, fundraise and advertise the show, recruit and train stage crew, make, buy, and borrow costumes and props, and much, much more. To summarize, Giardinelli says "I know our directors spend many sleepless nights working on this production every year, and our entire cast and crew works very hard in order to make this a success. Overall, the production is a huge group effort that requires a lot of hard work and dedication, but pays off in the end! Everyone involved is so lovely and giving, it is just an incredible group to be around."
All this hard work has definitely paid off for Padua's theater program, as it grows stronger each year. Padua theater will put on The Addams Family Friday, February 16th, Saturday, February 17th, and Sunday, February 18th.
About the Contributors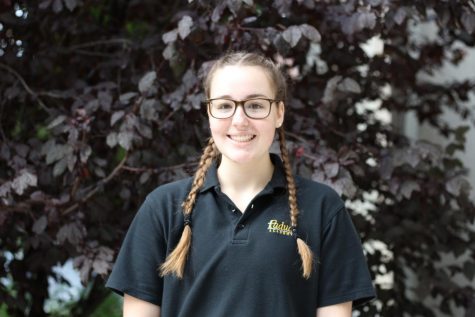 Meaghan O. '20, Reporter
What grade are you in?

I am a sophomore at Padua Academy. 

What is your favorite food?

My favorite food is cheese pizza.

What is your...