Big Sister Little Sister Legacy Ceremony
Hang on for a minute...we're trying to find some more stories you might like.
A widely known tradition at Padua Academy is the pairing of a freshman and a senior, or the pairing of a "big sister" and a "little sister". On Tuesday, May 1, freshmen and seniors came together in the cafe during flex for a legacy ceremony.
The girls sat down and watched a video with pictures from the activities the "sisters" participated in throughout the year while "Stand By You" by Rachel Platten playing in the background. Short speeches were given by a few seniors, freshmen, Mrs. Burris, and Mrs. Pugliese.
The seniors then gave stickers to their "little sisters". They chose the words and design that would be put on it, "there is strength in sisterhood". Then as the seniors left, they were given "Panda Power Packs" to help them get through the last few weeks of school. The freshmen gave the candy that was put in the bags.
Freshman, Krissy Kanu, said, "It was a great way to celebrate the end of the year and say our final goodbyes." This was the last scheduled meeting between the pairings before the seniors leave Padua and the freshmen become sophomores.

About the Writer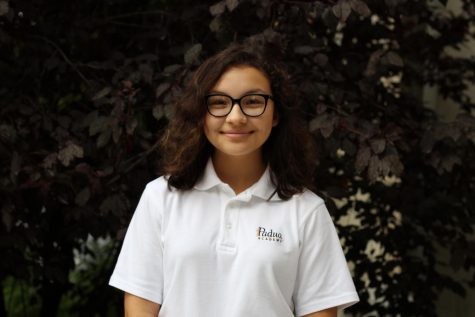 Jennifer C. '21, Reporter
What grade are you in?
I am a freshman at Padua.
What is your favorite food?
My favorite food is pretty much all kinds of sweets and baked goods from any bakery or restaurant. I have a major sweet tooth so I can never turn down dessert.
Favorite music?
My favorite type of music is alternative and pop, especially music made by Halsey, Selena Gomez, and Shawn Mendes.
Why are you taking journalism?
I am taking taking Multimedia Journalism because I have a passion for writing and I wanted to gain some experience. I also like to tell stories, so being able to write articles to inform people about things that have happened seemed appealing to me.
Best advice you've ever received?
The best advice I have ever received was when my mom told me to "Breathe". I usually don't take breaks and try to plow through everything which makes me stressed, so this reminds me to stay calm.