Spaghetti Dinner
Hang on for a minute...we're trying to find some more stories you might like.
The 8th annual Spaghetti Dinner fundraiser was on Friday, January 24th. This year, it was raising money for the theater program's production of Mamma Mia.
To attend the event it cost $10 for students, $15 for adults, and $5 for children under 5. It began at 5:30pm. Those who went were treated to a pasta dinner and live entertainment.
In preparation for the event, the cast was asked to bring in at least $10 each to pay for the catering and things like plates, cups, and drinks. In past years, the dinner for the fundraiser has been made by the parents of the cast.
Caroline Achenbach, one of the student producers this year, said, "We changed it up this year because we thought it would be a lot easier and less stressful for the parents. All the stuff they couldn't provide, like drinks, Mrs. Kowalski just picked up a few days before."
During the event, attendees were served salads as the first course, and then later a plate with spaghetti, two meatballs, and a slice of Italian bread by restaurant-style with servers. While enjoying their meal, the cast of Mamma Mia performed many songs ranging from pop music to showtunes.
At this year's Spaghetti Dinner, there were 31 musical acts performed by the members of the cast. All members had the opportunity to sign up to sing or play an instrument as their performance.
Emily Quinn, another student producer, said, "Anyone can sign up, and some people even sign up twice, if they want to do a duet or something with a friend, and then do a solo too. Either way, I really appreciate anyone who decides to put themselves out there."
For many freshmen in the cast it was their first time performing for a large audience. Isabel Bishop, a freshman who performed "Only Us" from Dear Evan Hansen, said, "I was super nervous, but I thought it went pretty well. There were a lot more people there than I thought though, so that was kind of nerve-wracking"
The fundraiser supports Padua Theater's production of Mamma Mia that is being performed February 14th, 15th, and 16th. "It helps to pay for anything you can think of really," said Quinn, "We have to pay for the rights to the show, pay our musicians, even some costumes. The support from our fundraisers is such a big help, and we were really happy with the turnout this year."
About the Writer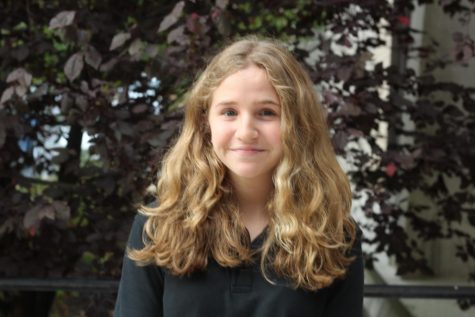 Bella P. '23, Reporter
     Bella is a freshman at Padua Academy. Her birthday is November 2, 2004 and she is from Northeast, Maryland. Before coming to Padua, she went to...