The Acceleration of the School Store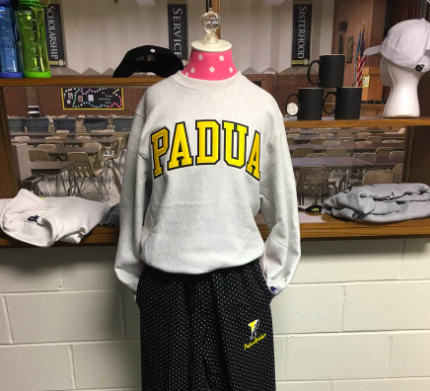 While the school year is in session, the Padua School Store is still flourishing through the pandemic. This year, the school store has adapted to the school's hybrid model. People in the community continue to support the store by purchasing holiday gifts. 
Staff members Mrs. Higley and senior Suzanne Melia experienced many accomplishments and challenges while running the school store. This responsibility has motivated them to look at new possibilities for change in the store.
"Running the store has been a great experience for me to enhance my knowledge of business and to effectively communicate with my classmates in discussions," Melia said.
The school store has played an important role in the building during the last several years. Every year a committee of teachers and staff members chooses rising seniors to be a part of the store. The selected seniors collaborate with their teammates to produce new items. 
"Students who are interested in participating in the school store are encouraged to enroll in Business Leadership class before applying to volunteer in the store," Higley said.
The store offers a variety of items and many are selling out quickly. These specific items are popular this season: sweatpants, sweatshirts, and hoodies.
"Recent items in the store are a Champion Oatmeal Heather Crewneck, Champion Fleece Joggers, Black Padua Hoodie, and many more items," Melia said.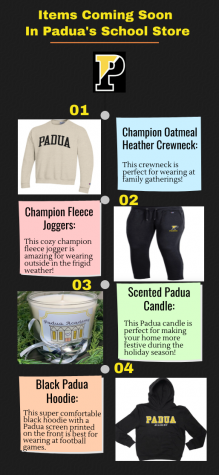 All year long, the staff members refresh the items in the store to accommodate the different seasons and events in the school. After the first day of the school year, the staff members begin to brainstorm new proposals for the spring and holidays. 
"The staff members have done a phenomenal job with creating new items for every season," Higley said. 
The seniors who oversee the store work year round and are present in the store during community events.They work on weekends for different occasions such as sporting events, Open House, Back to School Night, and tours. 
"Operating the store through events gives us the room to socialize with different people while selling our new merchandise," Melia said. 
Each year students, faculty, staff, and the community support the development of the store by purchasing merchandise and building school spirit.
"The school store has served the needs of the community," Higley said, "I am thankful to be able to participate in the learning process of running a business."
About the Contributor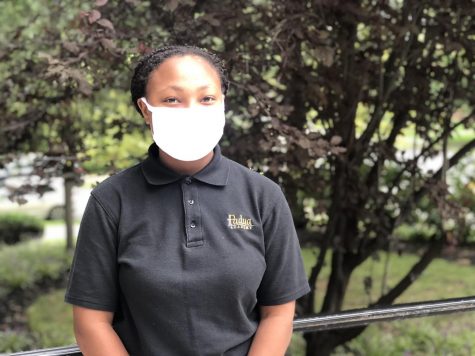 Tiara N. '23, Staff
Fear has gripped the lives of millions as a new challenge of uncertainty faced the world head on. Fifteen year old Tiara Nelson refused to let fear take...