Philadelphia Eagles, NFL's latest underdog
Hang on for a minute...we're trying to find some more stories you might like.
The Philadelphia Eagles won their game against the Vikings, pushing them to Super Bowl LII. After the victory in their second to last playoff game against the Atlanta Falcons, offensive tackle Lane Johnson and defensive end Chris Long celebrated by putting on a German Shepherd mask to symbolize the underdogs. Johnson wore the German Shepherd mask during the postgame after the Eagles took their win. Tight end Zach Ertz explains that the whole idea surfaced during the Eagle's pregame meal the Friday night before they played the Falcons.
"
Underdogs. No shot. Dead in the water. We heard it about 10,000 times over the course of that week: The first No. 1 seed since 1970 to be 'dogs in the divisional round. It wasn't just us who embraced it. The whole city embraced it. If you're an outsider, you probably don't really get it. But if you're from Philly, and if you've been following this team all year, then you know. It's not just Carson Wentz who went down. It was Jason Peters and Darren Sproles and Jordan Hicks and Chris Maragos. We could probably field an All-Pro team of injured guys, but instead of crumbling under all the adversity, it only made us more united."
— Zach Ertz
Soon after the uprising of the underdogs, Johnson made a t-shirt showing himself and Long wearing German Shepherd masks. Since the release of the t-shirts, Johnson has promised that 100% of the proceeds will go to the Fund for the School District of Philadelphia. The shirts have done $100,000 in sales. The Official NFL Shop released their own underdog t-shirts that shows a german shepherd wearing an Eagles dark green collar with four spikes.
After the NFL released their own underdog shirts on January 22, 2018, Long and Johnson both started to call out the Official NFL Shop for not giving the proceeds to The Fund for the School District of Philadelphia. Long tweeted, "Hey @NFL you should donate the proceeds to charity like we did." On the same day, Johnson tweeted, "So how much $ is going to @fundPHLschools?" The next day, Long revealed the information over twitter that, "The @NFL is generously donating 100% of the proceeds from this underdog shirt to @fundPHLschools ! @Eagles fans check them out!!"

About the Writer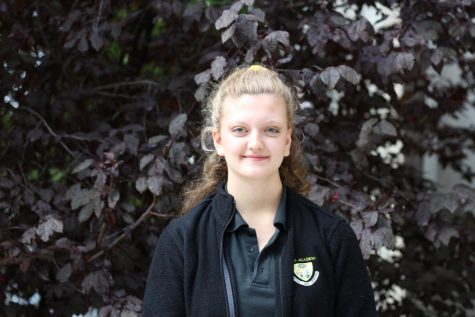 Nicole O. '20, Reporter
What grade are you in?

I am a sophomore.

What is your favorite food?

My favorite food is pizza or green beans.

Favorite music?

My...