U.S. Figure Skating: Who's Going to the Olympics?
Hang on for a minute...we're trying to find some more stories you might like.
The Olympics are a series of events showcasing Olympic athletes from many nations, although, one event that shines above the others is figure skating. The 2018 Winter Olympics are taking place on February 9 – 25 in Pyeongchang, South Korea, and the U.S. Figure Skating team has been decided.
The U.S. Figure Skating Championships took place on December 29, 2017 – January 9, 2018 in San Jose, California. Fourteen athletes were nominated to go to the Olympics: three women, three men, one pair for figure skating, and three pairs for ice dancing.
Not very well-known Bradie Tennell (19) took first place in the U.S. Championships for the women. An Olympic Veteran, Mirai Nagasu (24) took second place, and the youngest woman on the figure skating team, Karen Chen (18) took third.
For the Men, "King of the Quads" Nathan Chen (18) took first place in Nationals. The youngest man on the team, Vincent Zhou (17) took third place, and Adam Rippon (28) took fourth and will be making his Olympic debut. Ross Miner took second place but was not chosen to be sent to the Olympics.
The U.S. is sending only one Pair Skating couple, husband and wife, Alexa Scimeca Knierim (26) and Chris Knierim (30) who took first place at the Championships.
More skaters who are making their Olympic debut are Ice Dancers, Madison Hubbell (26) and Zachary Donohue (27) who were in first place. The "ShibSibs" Maia Shibutani (23) and Alex Shibutani (26) took second, and Madison Chock (25) and Evan Bates (28) took third place, making it their second time at the Olympics.
All of the U.S. figure skating Olympic athletes this year are different from each other in many ways when looking at ages and experience. With a bunch full of veterans and rookies, this year's U.S. Figure Skating Team that are being sent to the Olympics will be an interesting sight to see who will be at the top.
http://www.thisisinsider.com/2018-us-olympic-figure-skating-team-members-2018-1

About the Writer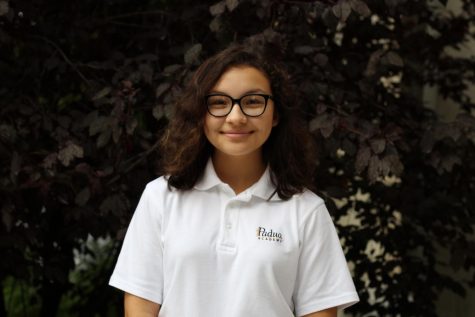 Jennifer C. '21, Reporter
What grade are you in?

I am a freshman at Padua.

What is your favorite food?

My favorite food is pretty much all kinds of sweets and baked...