No Baynard, No Problem
"Feet don't fail me now, say, feet don't fail me now, say what… Padua on three, 1,2,3 Padua you know who the best? We the best!" For years now Padua has been chanting that cheer before every big meet whether it is the Catholic Conference Championships, New Castle County Championship, or DIAA State Championship meet. The track team takes their practice, lifts, and work out days seriously. Baynard Stadium has always been Padua's go to place for track practice and after Salesianum received a generous donation of $16 million to renovate Baynard Stadium Padua was left with no track to practice.
Distance runner Moira Smith said, "I was disappointed when the team could no longer practice at Baynard because Baynard held some of the hardest workouts, when I felt like giving up, and some of my happiest moments with my teammates. It was sad to say goodbye to a place with so many memories."
Senior captain, Katherine Hally, said, "That track is like all of our second home. Whenever I think about Baynard, I remember all of the insanely challenging workouts we ran there and all the laughs shared in between intervals that makes it such a special place for our team."
"
That track is like all of our second home"
— Katherine Hally
Baynard Stadium, which is soon to be called Abessinio Stadium, will be ready by the football season of 2020. Next year, PATF will be without Baynard Stadium, making it more difficult to find a permanent place to train. "No excuses" is a big part of Coach Marnie Giunta and Coach Barry Swanson's training method. Hally said, "Not having a track that is in running distance from Padua is a major obstacle for our team, but we are very resourceful and resilient. Every day is a new challenge with finding a place to practice, but we make it work with the resources we have.".
The coaches asked many teams in Delaware if PATF could practice at their track and unfortunately many were unable to offer their track, leaving PATF to practice inside at Padua, Ursuline's Reservoir, or Bellevue State Park. The distance team, Hally said "Before we found a new track, mainly we just had to be creative with where we practiced. Bellevue State Park has a horse track that is a good surface to run on, so we go there a lot for workouts." The sprinters spent many of their practices inside running in the halls of Padua. It was difficult for some especially specific events like hurdlers and jumpers to not have a physical track to practice on but they have continued to make it work. 2019 50m hurdle Indoor State Champion, Jia Anderson, was having to do drills inside on the marble making it a little more difficult to get the training she needs, Anderson said to stay motivated and focused "You just have to believe in yourself and remember that you know what you're doing regardless."
The assistant coach, Barry Swanson, was lucky enough to get permission from Glen Mills School to use their track twice a week. It is a 30 minute drive from Padua but it is the only school that was able to let PATF borrow their track.
"
You just have to believe in yourself and remember that you know what you're doing regardless"
— Jia Anderson
PATF has the 2019 State Championships in a week, May 17-18, at Dover High School. "I think not having a reliable track everyday for practice has made our team work together to find solutions. It's something we just have to deal with while still putting forth our best efforts everyday." All season they have worked for this day and although they have not been able to practice on a track for a good part of the season they are determined to use all the training, strength, and confidence to be able to step into Dover High School and lay it all out on the track.
About the Contributor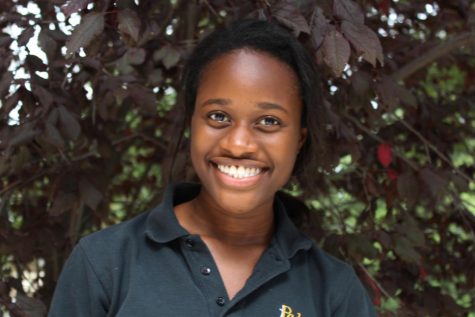 Olive D. '19, Editor
Olive Twum-Danso is a senior at Padua. She has been here all 4 years and enjoys it here. She has been running track since freshman year. Olive likes going...