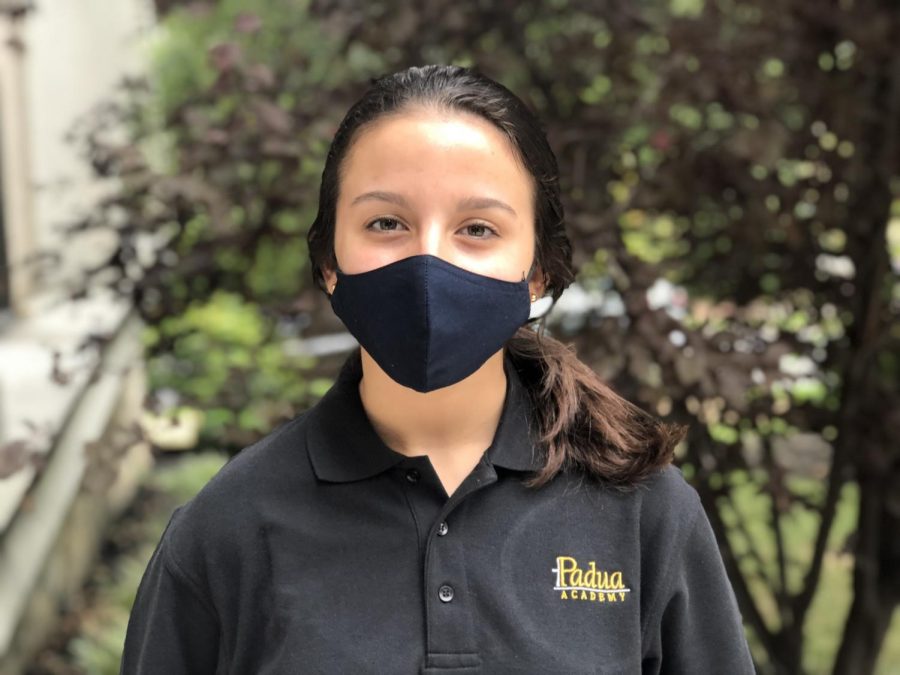 Ally Lang is a Padua freshman. So far, her favorite part of high school is meeting new people, the teachers, and learning the way the classes rotate. Ally looks forward to playing volleyball and the overall high school experience.
Ally was originally drawn to Padua through family; she had multiple cousins attend Padua , including one who is currently a junior. In addition to that, her father, Mr. Lang, is a guidance counselor.
Her least favorite part of high school is the workload and the way the pandemic has impacted the high school experience.
"At the beginning of eighth grade it is definitely not ideal, not how I expected to start high school,"Ally said.
One thing she looks forward to is meeting new people at Padua.  She started at Christ the Teacher and went there for eleven years. At Christ the Teacher she met her best friend who now goes to Padua, and explained that "even if we do make new friends we know that we will still be close," Ally said.
Ally's interests include volleyball, which she has been playing since fourth grade. Her favorite television shows are "Gilmore Girls" and "Grey's Anatomy". World Civilizations is her favourite class because of her teacher, Mr. Mahler. 
Ally originally got the name "Ally" as a compromise. Her mother originally wanted to name her "Ayla" and her father wanted to name her "Kaitlyn Rose", and Ally was the one name they both liked.
In the future Ally wants to pursue a career in journalism photography. 
"It started when I was taking pictures of my brother playing baseball," Ally said. " Then after I liked it a lot I went to camp over the summer in sixth grade. I liked it so I would just take pictures of random things, and I found out I could make it a job."
Ally L. '24, Staff
Nov 07, 2020

Volleyball Viruses

(Story)

Oct 23, 2020

Coronavirus Cruise

(Story)