Coronavirus Cruise
A six month vacation sounds like a dream to most adults. Not for Paul Baya. When a global pandemic gave workers a chance to work from home, what did the cruise industry do? Well, they got a vacation from their vacation.
Paul Baya has been working in the cruise industry for over 25 years. He started out of college with the job behind a front desk in a hotel. He then moved to a cruise ship front desk, and then to cruise staff. Climbing his way up the ranks, he is currently a cruise director for the cruise ships for Oceania.
Unlike most people with jobs, Paul really enjoys going to work. His favorite part about each cruise is the fact that in the mornings, there are no passengers and there is a time for the ship to "take a breather."
"Say around 10:30 in the morning, all the guests leave the ship," he said. "And there is about a half hour or 45 minute window where there's no guests on board, just the crew. And I feel like in that time, the ship is exhaling."
The most popular cruise destinations are anywhere in the Caribbean, or Alaska. However, Paul's favorite trip was one to Japan.
"I'm still completely fascinated by Japan. I was there three years ago, and that was just the most fun and the most memorable," he said.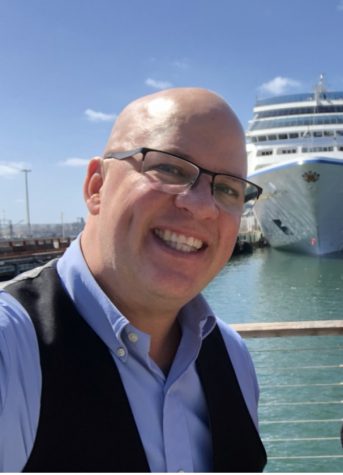 With the coronavirus taking over, the cruise business has been basically shut down. On his time off, Mr. Baya stayed home with his family. He said he has not spent this much time on land since college.
Covid-19 has put things into perspective in regards to safety from bacteria. Being on a cruise with 450-650 crew members and a thousand or more passengers, Paul thinks that there will definitely be more safety precautions with the way food is served or how people socialize in the future. Paul is curious how coronavirus will all evolve with the entire cruise industry over the next 4-8 months. He believes it is too early to judge how much business will change, but when they find a vaccine, the limit of how many people are allowed on, crew or not, will be decreased.
Because Paul was on his ship, working, for most of his time, he made many friendships. "I think I've only been home for five or six Christmases. So, the coworkers you have out there become not only your friends and colleagues, but you're almost like family," he said.
Working on a cruise ship is not all fun. There are hard parts to the job. Mr. Baya's most difficult task in his job is trying to please everybody. There are too many people on the cruise to do something that everyone wants, or is happy with. He has to make many compromises to keep his passengers happy.
Despite hardships, Paul does get to have breaks from his work. He does get normal vacation time, just like every other job. He loves seeing his family, but he is in love with his work.
"I love seeing my friends and family, but I always want to go back to work," he says. "I don't know many people that are like that after a vacation, but I am filled with gratitude for the choices I have made to end up where I am. I look forward to going back to my job. And I think that is a very good feeling."
About the Contributor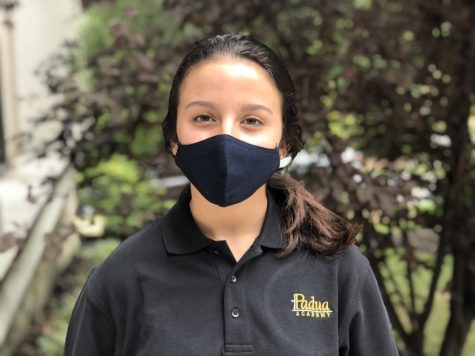 Ally L. '24, Staff
Ally Lang is a Padua freshman. So far, her favorite part of high school is meeting new people, the teachers, and learning the way the classes rotate. Ally...