Fighting the Odds: Winning Against Childhood Cancer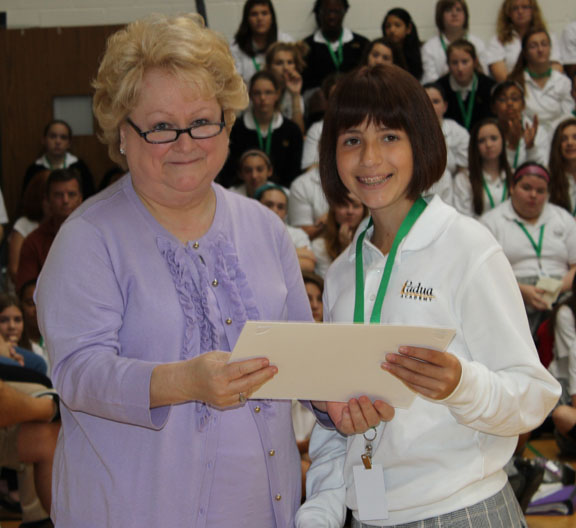 Pearce Quesenberry is a student, athlete and friend. One thing that makes this ordinary girl extraordinary is her courage.  On February 22, 2008, Pearce's life changed forever when her doctor diagnosed her with Medulloblastoma, a brain cancer.  At the age of 10, there was a mass on her brain the size of a small lemon. She described her feelings as, "Shocked and confused." Little did she know her diagnosis would be the inspiration for a non-profit and a lifelong goal to help kids who are also affected by pediatric cancer. Pearce wanted to also bring awareness to Padua Academy.
On Tuesday, September 27, 2011, the Padua Volleyball team helped kick off fundraising proceeds to the Pearce Q. Foundation. The Padua Academy JV and Varsity Volleyball played Friends School. The Dance team showed they were all a part of "Team Pearce" as they donned the T-Shirts that were created and purchased in her honor. Even the volleyball team sported the T-shirts that said: "Winning is everything when fighting Cancer." Students, parents, and spectators received a free bottle of water if they wore the T-Shirt. The stands were filled with excited Padua students proudly wearing their T-Shirts in honor of their Padua sister.
On Wednesday, September 28, 2011, the halls were filled with grey T-Shirts, purchased by both students and faculty.  Those not purchasing a shirt could donate money and dress down to support the Go 4 the Goal campaign. Go 4 the Goal is a non-profit organization dedicated to helping children with cancer complete their goals. All proceeds from the T-shirts went to the Pearce Q. Foundation.
The Pearce Q. Foundation was founded by friends of Pearce, who fund-raised and rallied for Pearce in her family's time of need. By providing the family with financial support, the Pearce Q. Foundation made life easier so that Pearce's family could focus on her recovery. There are three basic goals that Pearce and her foundation have set that are affiliated with helping other families and children who are afflicted with childhood cancer. Her first goal is to continue to raise funding for the needs of the families that are still battling childhood cancer. Second, she hopes to raise the awareness of childhood cancer in her community and the nation. Third, Pearce would like to raise funds for researchers so that in the future no one has to endure childhood cancer.
Now, Pearce is a healthy 14 year old. She describes how she feels now as "Relieved!" She is excelling at sports and manifesting into the cancer-free Pearce that will bring hope and inspiration to others. She is happy to be at Padua and even happier that she has a such a supportive student body that she can call her Padua Sisters.
For more information about Go 4 the Goal or the Pearce Q. Foundation visit www.pearceqfoundation.org and www.go4thegoal.org.
About the Contributor
Brandi B., Opinions Editor
Brandi is an energetic youth leader with a passion for making her community a better place. She is a 12th grade student at Padua Academy where she developed...