Course Selection 2017
Hang on for a minute...we're trying to find some more stories you might like.
As the the second semester starts, students at Padua are already thinking about the next school year. Depending on what grade you're in, you have the option of picking a certain number of classes. Picking classes for the next year is very important for planning your future and further expanding your knowledge. There are many different types of classes that you can take at Padua like business, technology, and art. Even though picking classes can be stressful, it's a vital part of your high school career.
Sophia S. '20 talked about the process. She said, "Yes, I've found them hard because I'm scared I'm gonna pick a class that will be too hard and stressful for me." Jasmine M.'20 said, "I thought it was hard because I'm not sure what the right classes are for me. I've asked my teachers but they tell me that I'm the only one who knows me the most." Finally, Grace P. '20 was asked about how she's going to pick her classes. She said, "First I am going to decide what classes I'll be interested in. Then, I will talk to my teachers and ask them what classes they think I should take. I also will have a conversation with my family about if they think I'm overloading on classes." The end of the first semester is the time to start thinking about classes for the next year.

About the Writer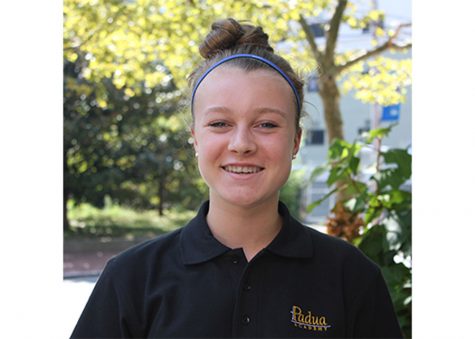 Clare M. '20, Staff
As an incoming freshman this year, Clare M. is looking forward to meeting new people and trying different things. Driven by the motivation to become very well rounded at Padua, Clare has already started off her year with a spot on the volleyball team and hopes to join many clubs throughout the year. Although volleyball is one of Clare's biggest passions, she knows that studies must come before that and is determined to keep up her grades while still crushing it on the court. Despite being quite the procrastinator, she can achieve anything and everything she sets her mind to. Also, Clare says her procrastinating is something she hopes she can fix this year so she can excell her freshman year at Padua. Clare believes her biggest educational weakness would be English, such as writing and vocabulary but, with her attitude and mindset, she can keep pushing and eventually become an expert in these subjects. Her biggest strength is math, because it comes easily and makes the most sense to her. Clare is mostly interested in science, and looks up to her cousin, who is a marine biologist, aspiring to be like her one day. Clare also loves helping others and hopes to continue helping people all throughout her life. One of her favorite activities at her grade school was a Best Buddies program, which she hopes to continue with by joining Blue Gold. One main reason Clare took Journalism was for photography, saying she loves the art of taking pictures and putting everything together. Clare also wants to contribute a lot into the paper, however, she does not want to handle everything because she claims she does not do well under pressure. She feels it would be better for everyone on the paper to work together and incorporate everyone's ideas into each piece of work. Clare also believes in quality over quantity and something being done well rather than it getting done quicker. She loves working with others and being together for group projects is her favorite, since she can work with others and bring everyone's ideas together. Outside of school, Clare loves to watch movies in her free time. She is a huge fan of One Direction, but she loves all types of music. Clare hopes to improve the Padua newspaper by incorporating her own unique ideas and hopefully getting more viewers.