Shaun White
Hang on for a minute...we're trying to find some more stories you might like.
Shaun White is a 31 year old USA Olympic Snowboarder. White is a thirteen time gold-medalist, and has also won multiple medals in the Summer and Winter X games.
White began his career by getting his first major title in the Arctic challenge, at the age of 15. This was only the beginning for White. Two years later, he earned two gold medals and received the best athlete award in the Winter X Games. In 2005, White got the big news that he qualified for his first Olympics in Turin, Italy for the following year. In Turin, he earned the gold medal for the halfpipe course. White also got the record score 46.8 out of 50 maximum points. This the highest score ever recorded in the Olympics. Four years later, in 2010, he earned another gold medal for doing the halfpipe, and adding in the "Mctwist", when boarder spins one and a half times while holding the edge of the board with one hand.
Although Shaun White has had so many achievements without injury, this changed in October of 2017. In New Zealand, White was doing his regular routines on the halfpipe, he sped up to go for a jump, floated 22 feet in the air and lost control. White lost control and dropped down from this soaring height, slamming face-first into the top of the halfpipe. White needed to get 62 stitches across his forehead and a few on his tongue, and he also bruised his lungs. This injury was a huge set back for White but he was not willing to give up, being only months away from the PyeongChang Olympics.
Going into the 2018 Olympics, White said, "It is a miracle that I am here and well". White had a great desire for the gold medals, but he also had strong competition. Despite the odds, he left the 2018 Winter Olympics with three gold medals.
White said, "I'm proud of the USA. We've done some amazing things. To wear our flag in the Olympics is an honor."

About the Writer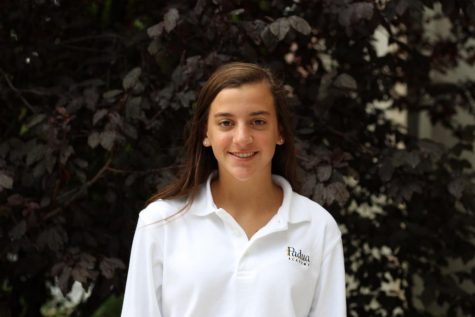 Olivia B. '21, Reporter
What grade are you in?

I'm a Freshman at Padua

What is your favorite food?

My favorite food that I could eat every day is Chinese food.

What...