Fourth Year of Sophomore Service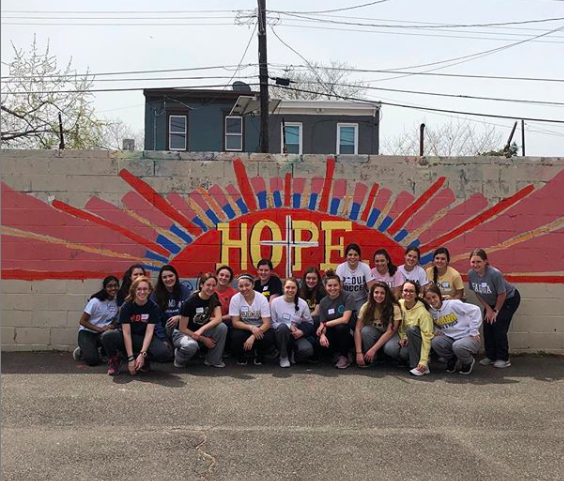 Sophomores have been traveling to Camden, New Jersey for four years to experience a day of service with DeSales Service Works.
"We are hoping students get a chance to really have a service retreat: a time when they can get out of their normal routine and encounter God in others as they serve," said Mrs. Alinda.
One of the reasons Camden was chosen for the day of service is that the quality of the program was more efficient and structured.
"While there is certainly work to be done in Wilmington," said Mrs. Alinda, "it's so valuable that DeSales Service Works has a structure for us to drop into, and it's wonderful to support an oblate program."
Students first arrived at The Last Stop, a place where the homeless can receive food or get help with addiction to drugs or alcohol.
"I was happy that there was a place in Camden that people could be lead to recovery and have a meal," said Maggie Benson, a sophomore.
Throughout the day, students were presented with a variety of activities including serving food to the less fortunate and picking up litter.
"I always hope it's a time students can learn from those they serve, and focus on how they are seeing God," said Mrs. Alinda.
After students finished helping the poor, they had the opportunity to play with children from a local school in Camden.
"The kids were all very kind, and it was rewarding to make their day a little bit brighter," said Miranda Rush, a sophomore.
At the end of the day, the sophomores gathered together and listened to the stories of those in recovery from drugs or alcohol.
"The honesty and vulnerability is a real gift, and I always leave feeling like I learned so much from what they share," said Mrs. Alinda.