Danielle Sabatina: Dancer and Salutatorian
Senior Danielle Sabatina proves many things are possible with just a little hard work and determination, as she has been successful in managing both dance and school. After dancing for over 10 years, Sabatina has learned to maintain her heavy school work schedule in order to attend dance classes five days a week. Her efforts allowed her to become one of this year's two salutatorians.
Sabatina started dancing when she was only three years old and became a competitive dancer at age nine. Her older sister, Jessie, was the main reason she started to dance.
"My sister started because we went to our cousin's dance recital and she loved it, so my mom signed her up when she was three and then I just followed in her footsteps," Sabatina said.
Before deciding that dance was her favorite sport, Sabatina participated in many others. From softball to soccer, she tried a lot of things, but nothing made her as happy as dance did.
"I did about like every sport that a little kid usually does," Sabatina said. "But dance won over everything else."
Throughout her dancing career, she has received multiple judges awards and has gotten first place in multiple competitions. Also, when Sabatina and her sister showcased their duet at competitions, they received an award at every one. One of Sabatina's favorite accomplishments was when she won the I Heart of Gold award in 2019.
"My biggest accomplishment relating to dance is just a bunch of little things compiled up," Sabatina said. "I've gotten one award a couple of times at a dance competition that's called the I Heart of Gold award, which donated to I Dance For A Cure, and that was really cool because only one person from the whole competition won it."
Sabatina's dance teacher, Angela Bates, expressed how much of a hardworking and successful dancer she is. Bates said she always enjoys watching her perform and continues to be proud of the person and dancer that Sabatina is.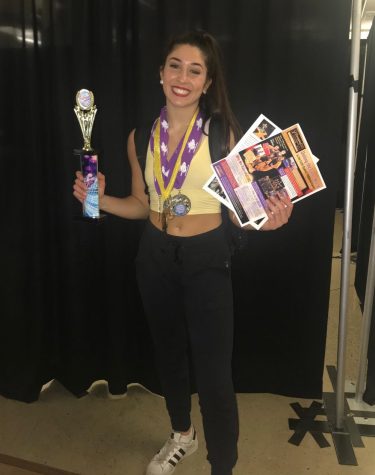 "She always does super well at competitions and continues to blow me away every time," Bates said.
This past year, however, COVID changed how her practices and competitions were run. Dancers could not attend practices in person and had to do everything online. It was difficult for Danielle as she did not have a lot of space to move around and was unable to easily communicate with the dance teachers. Also, many events were either cancelled or postponed.
"At the beginning, when COVID first started, we had a competition that weekend that was canceled, which was really sad," Sabatina said. "We had a trip to California that we go on every other year that got postponed, so now it's in August."
Danielle said she puts a lot of effort into her school work. After her junior year, Sabatina decided to focus on her club team and quit Padua's dance team. This change allowed Danielle to focus more on her school work and the college decision process.
"I felt like going into senior year and doing the college process would have been really overwhelming for me," Sabatina said. "Since I do competitive dance 18 hours a week, it takes over sometimes and with the dance team added on, it just becomes really stressful."
Sabatina has learned many different ways to balance her school work and dance. Her skills and techniques paid off when she was announced as a salutatorian alongside Annamarie Warnke.
"I've always been good at managing my time between the two," Sabatina said. "I know that every night I have the same dance schedule and I know I have to do this amount of work in this time and then maybe save some for after dance."
The big school workload that Danielle has comes with a lot of challenges. Sometimes she finds it hard to balance everything and decide which subjects need the most attention.
"A big challenge for me was admitting that a certain subject needed extra work or that I needed to do way more than what I have previously done for studying," Sabatina said.
Danielle plans to attend the University of South Carolina with a major in psychology and a minor in neuroscience. She said she is thankful for her years at Padua and has learned good time management skills, social skills, to always appreciate life, and to have fun in everything she does.
"I never expected to be a salutatorian, so never put any limits on yourself," Sabatina said. "If you want to do something, do it."
About the Contributor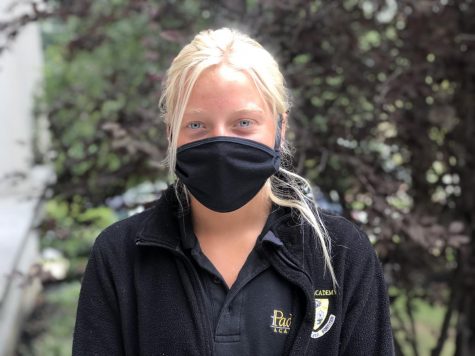 Maddie T. '21, Staff
Maddie Tonn is a Senior at Padua. She was born on January 4, 2003 in Aston, Pennsylvania. She has a half sister named Samantha who is 26 years old and...