A COVID Time Capsule
As the year comes to a close, students are looking back on a year like no other. This past year has been described as both stressful and eventful due to the pandemic and altered learning schedules.
Many have told anecdotes about the rush of the first day of school. Padua freshman Ally Whitmarsh described her first day at a new school.
"I went into World Civilizations, found where I was sitting, and started talking to a friend I met in orientation and went through all of my classes and met my teachers, and finally knew I was in the right place," Whitmarsh said.
Rory Tennant, another freshman, also remarked that her first day was "confusing" and "super exciting".
"I had no clue where to go but I thought it was really fun," Tennant said.
At this time last year, Whitmarsh had many expectations and assumptions.
"There was a lot of unknown," Whitmarsh said. "It was still spring break and is now in complete disarray than what I would have thought."
At first, adjusting to the new school schedule was something to get used to. Both Tennant and Whitmarsh stated that finding classes was difficult in the beginning.
"I would say I had a really hard time acclimating to the amount of time math would take with two sections at a time, but for me time-wise religion never fits in," Whitmarsh said.
School, while very important, is not the only part of life, Whitmarsh noted as she reflected on experiences with sports.
"Finding ways to get to athletics was an issue because there wasn't a constant flow of buses, and with all of the sports it made you realize how lucky you were," Whitmarsh said.
Looking back on the past year, Whitmarsh mentioned a few things she wishes she could have done better.
"I would take back being upset about things that really weren't a big deal," Whitmarsh said.
"Having parents as front line workers really opened my eyes and changed the way I see the pandemic versus the way other people might see it.".
Overall, this year has been a memorable experience for Maura Mullen, who is wrapping up her senior year at Padua.
"I definitely think we have missed out on some things I don't know," Mullen said. "I think even as a freshman you're waiting to be a senior and just things we are not able to experience as a senior."
Mullen did get to enjoy her senior activity days as well as seeing some of her friends she wasn't able to before.
Mullen is on track to pursue a nursing degree from the University of Delaware, and she experienced some highs and lows getting there.
"I think that at the beginning of the year I was really worried about college and what I would be doing and I feel like it worked out because I got into my first choice," Mullen said.
Mullen's college decision came more quickly than her peers'.
"I got my U.D. acceptance in November, and it was really nice to know where I'm going," Mullen said.
However, Mullen noted that it was not all smooth sailing getting to where she is now.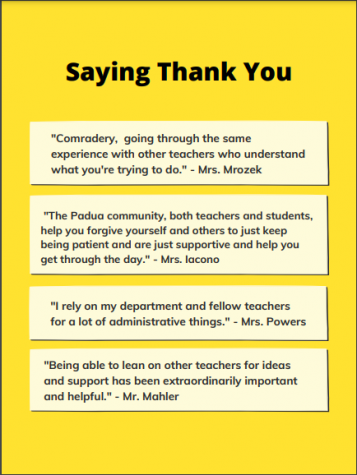 "The worst was taking the SAT because we had to take it and then all of them were cancelled, but it ended up being fine," Mullen said.
As the end of year is near and the Class of 2021's senior year is coming to a close. Mullen compared her first day of freshman year to her first day this year, three years later.
"My first day of freshman year I was really nervous. I didn't really have a ton of friends other than my friends from middle school," she said. "On the first day of senior year I was super excited and I have more friends from Padua."
Mullen also remarked that aside from the social aspects of high school, the school curriculum has aided her on her career path to becoming a nurse.
"I've taken as many classes related to [nursing] as possible," she said. "I was able to take anatomy and also sports medicine and psychology."
Although the students have faced many challenges in school during this time, the teachers and staff have had to adjust like students and families. Mrs. Powers, an English teacher, said it took some time to adapt to hybrid learning.
"I've gotten more comfortable with the schedule," Powers said. "At first it was difficult to adjust to."
Powers said that she has taken into account some of the class requirements amid this year's challenges.
"They changed this year because of COVID as far as expectations for materials and timely submissions," she said.
Most classes only meet once a week, which would most likely not be sustainable without alternative communication. To support this constant connection, Powers said that she has used technology to get information to her students.
"I'll continue to use a lot of tech that I might have not considered using," Powers said.
Apart from just teaching, it has taken a lot more time and effort to socialize outside of school, Powers noted. Alongside Dr. Bozanic, she supervises the Academic Bowl team, which could only practice and compete virtually.
"Everything is done through Zoom and no in-person competition," Powers said. "It is a lot more difficult to coordinate the set-up of the competition and takes a lot more time."
With her unconventional freshman year coming to a close, Whitmarsh stated how she hopes to grow from this experience and that it has helped shape her as a person.
"I hope to grow knowing that nothing lasts forever," Whitmarsh said, "and to take advantage of what you can while you have it."
About the Contributor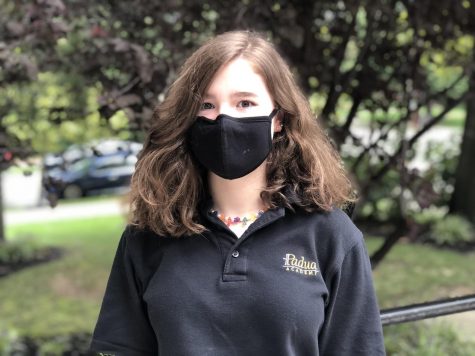 Ruth O. '24, Staff
As a new school year starts, so do new friendships. With the freshman coming in, everyone will see new faces around the building with new stories to learn....