Students Scramble to Find Homecoming Dresses
Weather, dress code, sizes, and colors all are factors in finding the right dress for a homecoming dance. But this year specifically, students had to contend with an apparent shortage of dresses at retail outlets. As homecoming season approached, students said they scrambled to buy a dress, many finding it difficult to get their favorite one.
Many high schools in the area have held their dances this month, and Salesianum hosted their 2021 Homecoming on Saturday, October 16. In a recent survey of 170 Padua students, 128 (75%) said they were attending a homecoming dance.
Students said they struggled to find a dress in time, whether it be because there were back orders, there were not many choices, or they simply could not find one that appealed to them. Many said they had to go from shop to shop, online and in store, to find a good dress.
"I shopped on Hello Molly, Lucy in the Sky, and Amazon," Hannah McGuigan '25 said. "I ended up getting my dress from Amazon because it was the quickest option." 
Survey respondents reported they struggled with sizing and the limited number of styles available when shopping.
"I found it difficult shopping for a homecoming dress due to sizes not fitting and having to deal with the hassle of returning them," Sydney Orndorff '25 said.
According to students, many stores didn't accept full cash returns and gave shoppers store credit instead. Some thought online was a better option, but with people not wanting to go into a store to buy their dress, the stock went down and the time for shipping went up.
"I started shopping online three weeks before but didn't end up getting my dress until three days before homecoming," McGuigan said.

Out of the 128 people that said they would attend homecoming, 10 found it "extremely hard" to shop for dresses, rating the difficulty as a 5 out of 5. They struggled to find a dress with all the other people shopping, limited options, long lines, busy stores, and lack of time.
"Homecoming dress shopping was very hard because there was a big giant line to go into the store, dressing rooms, and to buy my dress," Callie Metz, another freshman, said. "I was waiting for an hour."
Like 22.7% of the respondents, freshman Lucia Perry rated her shopping experience as a 4. She had a specific idea in mind but had trouble finding something that matched her vision.
 "It was hard to find a dress that looked nice on me," said Perry,  "and also fit into the terms of the dress code."
About the Contributor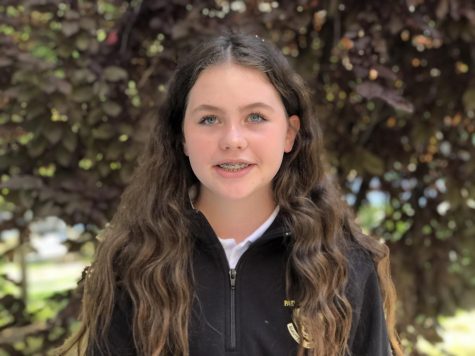 Bridget M. '25, Reporter
Bridget McManamon is a current freshman at Padua Academy and a reporter for Padua 360. While Padua wasn't her first choice for high school, she said...