Pipeline Protest
In early August, members of the Standing Rock Sioux community, as well people from all over the United States started protesting in North Dakota due to an oil pipeline near Standing Rock Sioux Reservation. The Rock Sioux community believe this action is both a cultural and environmental violation. According to the New York Times, the Red Sioux believe that where this pipeline will be buried is historically and culturally wrong. It is also a environmental problem that will cause a catastrophe if the pipeline breaks near the Missouri River. Some big banks in the United States have signed $2.5 million in loans to make this action possible. These banks include Bank of America, Wells Fargo, Chase, HSBC, UBS, Citibank. Environmental groups and BankTrack wrote an open letter on Monday, November, 7 to advise these banks six banks to halt further loan payments .
If this pipeline is created then it will carry 470,000 barrels of oil a day from an oil field.
"There are all these things that are happening to tribes over time that were unjust, that were not right. And nobody stood up. Today we say no! Do not put this pipeline here. Enough is enough. Respect our land, respect our people, respect our rights." Tribal Chairman Dave Archambault II told ABC News.
Robert Fool Bear Sr. thinks different about the protest. He says he has had it with the protestors. He says more than two years ago when members of the Standing Rock Sioux community could have attended a hearing to make their concerns they did not care. Now suddenly the crowds are out of control. Fool Bear Sr. says he is fearful that in a matter of time someone will get hurt.
Many people all over the country have come to join in with the protest. Artist Roger Valandra says he traveled to protest for a week and says that the freedom of peaceful demonstration was something he fought for.
Since the protest began, nearly 100 people have been arrested. Police used pepper spray and rubber bullets to remove protesters from land owned by Energy Transfer.
Since early November, the government has stopped the pipeline company from crossing the Missouri river. It is still not clear yet whether the corps will allow or block the pipeline.
"We have always asked that this be peaceful and prayerful. We don't condone violence from law enforcement and we don't condone violence from our water protectors." Archambault II says.
About the Contributor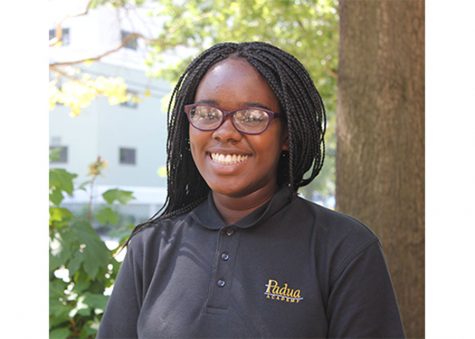 Niki D. '20, Staff
Niki D. is a freshman at Padua Academy and is an aspiring writer and loves to read. She joined multimedia journalism because she wanted to be able to write...