How Covid Has Affected the Food Production Business
During the new pandemic outbreak, several small businesses and companies experienced a huge loss in revenue and interactions between consumers. Michael Zacco, who works for Canopy Food Group, endured the hardships of running a food company during this hard time.
Canopy Food Group is a food manufacturer that makes tomato sauce for several stores and restaurants such as Whole Foods, Trader Joes, Rao's Tomato Aauce, Mia's California, Mia Kamila, and Sprouts food store.
The facility organizes their work where orders are placed in bulk, manufactured, packaged as requested by the company, and sent to a food supplier to provide the food to restaurants and stores.
Covid has not only taken sanitation in Zacco's facility to another level; it has increased business. During the pandemic, Zacco claims his business was doubled with more orders and more deliveries being made because tomato sauce is a food group everyone can use.
"Spaghetti is very easy to make," Zacco said. "The tomato sauce is easy to prepare, which is why we believe we did so well during this pandemic."
Zacco reiterates that this is the only reason business was so good for his company. As for Canopy Food Group, if Covid resurfaces, Zacco claims everyone will have to double the efforts being made now and at least 10 million dollars will be lost, as his company has already lost about a million dollars.
"Business was twice as good as it was before Covid. The restaurants that are closed will never come back. People have rediscovered eating at home and quality food. That is something your generation will learn." Zacco said.
About 23 million dollars on tomatoes imported from San Marzano of Naples, Italy. Once the product is made as requested, it could be picked up or shipped to another country.
Canopy Food Group was shut down for one week for sanitation purposes ordered by the USDA and opened back up with new procedures, including temperatures taken 2-4 times a day per person. Employees already had to be working in a cap, gown, and mask for consumers' safety per USDA rules because the company works with food.
"We spend 25,000 weekly on sanitation materials, which is double of what we used to spend," Zacco said.

Canopy offers pickup services, and nothing has changed about that. Food suppliers or companies bring the tomato product back to their facilities to be sent to restaurants or food stores. Michael states he has not changed his products' price, yet the price of tomatoes has risen by seven cents a pound.
"No cancellations were made," said Zacco. "In fact, consumers have tried to double or triple their order."
Zacco shared some of his burdens and experiences throughout the pandemic, stating that his company did take out a loan. A PPP loan (paycheck protection program) is a loan given to small companies to help keep the company thriving and pay expenses such as paychecks and rent. No employees working for Canopy received stimulus or unemployment checks during the pandemic.
Zacco claims the most frustrating thing is that even though employees may not have Covid, if they have been with a person who has, they have to quarantine and pay for a replacement during their absence.
"Keeping my staff from panicking [was] very hard with 131 employees scared to death," Zacco said, "and I had to put a school in the cafeteria because students were not in school, so we turned the cafeteria into a Zoom learning center."
This was Zacco's biggest struggle. At a workplace, children typically are not permitted to be in a facility like this, but due to the circumstances, changes had to be made in order for students to get the most out of school and while parents could provide for their family.
"I put a lot of hard work into my job," Zacco said, "and I love what I do."
About the Contributor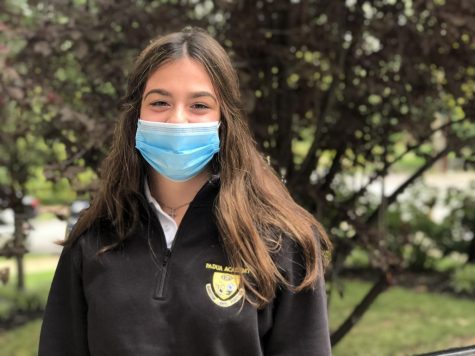 Gia Z. '24, Staff
Gia is a freshman who recently made a switch from public school to Padua. She loves caffeine, listens to all sorts of music (except for country), and dreams...