Getting to Know Mr. Okocha
Starting a job at a new place can be challenging, but Mr. Okocha was able to easily adapt to Padua Academy with help from the faculty, staff, and students. He has many interests and is honored to share them with the whole Padua community as a new teacher.
Okocha received his college degrees in Nigeria and London. He majored in physics for his undergraduate study and petroleum geophysics for his graduate study.
"I have not always wanted to become a teacher," he said. "My passion for teaching sparked up during my graduate study."
Okocha was inspired to become a teacher by one of his college professors, Prof. Jakubowicz.
"He was a fantastic teacher," he said. "He imparted his passion for the subject matter into the course and that greatly inspired me to pursue teaching."
Before joining the Padua community, Okocha was a teacher at St. Anne's Episcopal School in Middletown, DE, where he taught seventh and eighth grade math, and Delta State University in Nigeria, where he taught college-level physics.
Okocha teaches eleventh- and twelfth-graders physics and pre-calculus. He enjoys teaching at Padua and likes how it is a "fully connected campus."
"The technology facilities adapt to the demand of the curriculum and also enriches the teaching and learning experience," he said.
So far, teaching at Padua has been a good experience for Okocha. He said that everyone has been very nice and welcoming.
"My colleagues are always there to support me and the parents have also been very cooperative," Okocha said.
This year, the teaching experience has been different for Okocha, as he had to learn how to teach students online. He now uses various digital tools and resources to implement new approaches in his lessons.
"Switching to distance learning in the spring was a difficult adjustment, but with seven months into this unfamiliar territory, I have adjusted to the expectations of online learning," he said.
Aside from teaching, Okocha enjoys traveling, playing games and sports, and many other things.
"I am an easygoing person," Okocha said. "I love to travel, play chess and soccer, and keep up on the entertainment side of things."
Okocha is excited to see what the rest of the year will bring and continue to learn more about the faculty, staff, and students.
"Padua has an amazing faculty and staff," Okocha said. "The students all have interesting personalities which makes the class enjoyable and fun."
About the Writer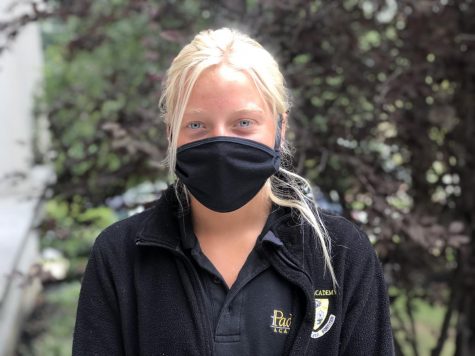 Maddie T. '21, Staff
Maddie Tonn is a Senior at Padua. She was born on January 4, 2003 in Aston, Pennsylvania. She has a half sister named Samantha who is 26 years old and...