New Beginnings for BSU
The Black Student Union is just beginning to kick off a new year and is a venerated piece of Padua.  Although Black Student Union has only been at Padua for a few years now it has had a huge impact on the school environment and the students.
The club has 20 members and two moderators: Mrs. Closson and Ms. Snider. BSU's purpose is to ensure and provide a safe space for people of color to express themselves and their true thoughts without the fear of judgement or being ridiculed.
"When you're black and a woman it's important to have a space to be heard," Talu Fajinmi, a senior, said. "Sometimes all you want is someone to relate to you."
Fajinmi said members pride themselves in staying informed and sharp on information, not only of the past but of the world around them. This allows them to inform other students about things yet talked about.
"This should be a place where everyone has a voice and that voice should be heard," Fajinmi said.
The BSU looks up to big names like Michelle Obama to names not so prominent like John Lewis. The members said each has an extreme impact on black history, but one's story is more "sugar-coated" than the other. Hearing the stories of important black figures gives the club more insight on the truth of the history behind the heroic façade presented in history books.
"Backup all your information with facts and always learn more about your heritage,'' Fajinmi said.
The success of BSU hasn't come easy even in the slightest. In the beginning the club was run by only four students and two moderators who oversaw the affairs. This led to bad organizational habits and a lack of work being accomplished. However, the BSU has grown so much and continues to expand its limits daily.
"In the future, I wanna see it advance, grow, and be more united. For alumni to pass on more knowledge to future generations of Padua," Closson said.
Now there are three committees within the BSU: Research, Service, and Planning. They act like pillars holding the club in greater stature and allow support.
"Now with the committees we established this year we have improved our communication and organization," senior Klonese Williams said.
With such a tight-knit group the members have grown close, especially when opening up with each other and establishing a certain level of trust not given to many. They described the group as "wise" and "knowledgeable" and having a high level of respect for one another and their opinions.
"It's a bonding experience," Williams said. "[I want others to] be the best person you can be."
About the Contributor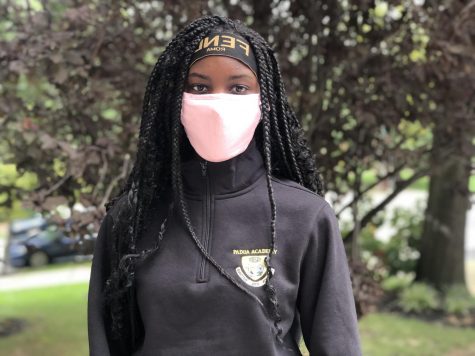 Mame N. '24, Staff
Mame Niange is a Freshman student at Padua Academy. She's a very caring individual and always knows just the right things to say. She's always trying...