Admissions Team Connects with Students from a Distance
For Admissions Coordinator Mrs. McAndrew, a typical work schedule involves recruiting new students, organizing placement tests, coordinating shadow visits, and guiding parents through the high school admissions process. However, due to coronavirus restrictions, many aspects of her role had to change. But with the help of students and faculty, McAndrew discovered solutions to these admissions problems.
The first problem to solve was allowing prospective students to tour the building safely. McAndrew was able to host small tours with two or three families after school to follow health and safety guidelines.
"No one from outside of our community could be inside the building during school hours, so that meant that we couldn't hold our shadow days," she said, "… so we had to work through some different options to get the applicants to understand what it's like to be at Padua."
In order to communicate with families directly, McAndrew organized Zoom sessions with prospective families in the beginning of the school year. She modeled them after the traditional in-person visits to the local Catholic grade schools and still invited graduates to speak about their transition into high school.
"I think it's important for the parents to get to hear from the kids, and they don't always get to do that," she said. "… That was kind of a way to get our students' voices heard."
Due to restrictions, McAndrew had to be creative in planning this year's Open House, which draws many families to the school in October. She said that teachers "really stepped up" to make "awesome" videos about each department and hosted Google Meets for families to join throughout the day.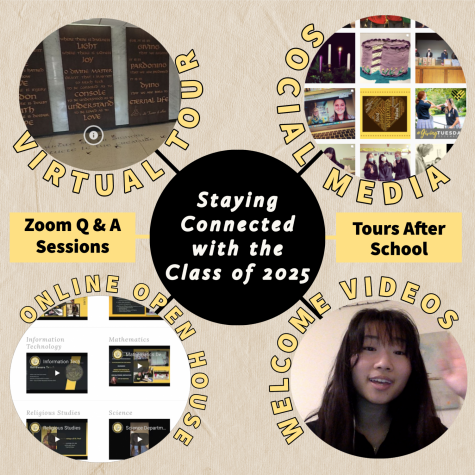 "It's just another way we can open some virtual doors and let them actually interact with our faculty because… one of the main things that they [prospective students] miss for Open House is being able to meet the faculty and talk to them," McAndrew said.
Another staff member, Mrs. Bell, has also played a crucial role in advertising Padua and sharing what the school is all about. Via social media pages and the website, Bell has provided a look into daily life at Padua and highlighted activities that could spark an applicant's interest.
"[Mrs. Bell has] been really great at… incorporating it with some of the really cool things that are going on," McAndrew said. "… What a great way to say, 'Come apply to Padua, but also there's some really cool things that your daughter could do while she's here.'"
For McAndrew, connecting applicants to current students was the hardest aspect of this revised admissions process. McAndrew said shadow visits are usually the "number one way" to forge bonds between students, so she switched to an alternative: personalized videos.
Teachers recommended various students to help McAndrew with this task so that each applicant who toured received a video that pertained to their interests. Sophomore Sophia Correale was invited to make these videos and participated in order to share a virtual glimpse of life at Padua. She recognized that the eighth-graders' experiences in the admissions process were much different than in past years.
"It's definitely harder for the eighth-graders this year," Correale said. "They don't get to come in and experience what a day is like, so telling them about it is the next best thing."
Correale explained how she went about making her videos and decided what to discuss. Since she has never experienced a full "normal" year—she was a freshman when the pandemic hit—she focused on describing the current hybrid model.
"We're experiencing a hybrid [schedule] so it was kind of like, 'This is what it's like now, and hopefully it'll be better when you come, but this is what it would be like if we were still in Corona times,'" she said.
Senior Minjie Paark, another student on the video list, decided to join the project and share her Padua experiences with the recipients. Paark said she felt "proud" to promote and represent her school in the community.
"I thought that that'd be something really nice and exciting to do," she said. "… I found someone who had two interests that I was also interested in, so I was excited to say 'Hi' and meet someone new."
Paark said that this process is "an interesting way that we can still keep in touch" with possible future students.
"The fact that Padua wants to still try to welcome the eighth graders… [is] nice," she said, "and it shows the effort that the administration puts in and that the kids here put into making sure that we have a nice community."
Although Paark, who transferred junior year, experienced a very different admissions process, she appreciated how older students offered their insights about high school in this way. Paark said she enjoyed participating because it helped her connect with someone who had similar interests, even from a distance.
"I really like that you could find someone who you had something in common with, because you can learn more in depth about the activities and whatnot from a student perspective," Paark said.
Correale hopes that her videos played a role in each student's decision whether to attend Padua. She said it would be wonderful to reconnect with a video recipient and become friends in the future.
"I hope that these future Paduans… come to Padua," she said, "and I hope that when they do they reach out to me and they're like, 'Hey, I saw your video. You told me about Padua. That's why I'm here.'"
About the Contributor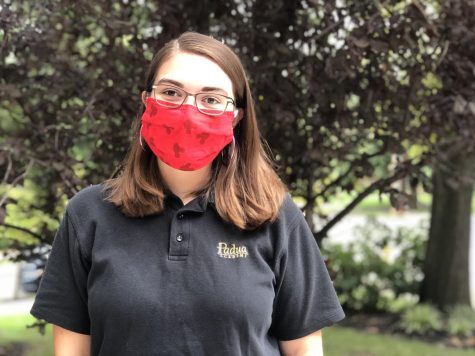 Emily M. '22, Editor-in-Chief
Emily is a Junior at Padua Academy. She took Journalism as a Freshman and is back to be Padua's youngest editor-in-chief! As a writer, she won two awards...