Traveling During a Pandemic
Due to the COVID-19 pandemic, traveling by plane had not been a big part of people's lives because of the fear spreading the virus. However, people are slowly beginning to go back to airports and start traveling again due to a decrease in case numbers in the United States. According to a survey of 136 Padua students, 73.5 percent didn't travel in 2020 due to the pandemic, but 59.1 percent have either already traveled, are planning to travel, or might travel in 2021.
Sophie Bell, an eighth-grader at Kingsway Regional Middle School in New Jersey, has had a very active travel experience, via plane, amidst the pandemic unlike most people.
"In 2020 I traveled in January, July, August, October, and November, and this year I have traveled almost every month, all by plane," Bell said. "Some of the places I've flown to include Nashville, Texas, Las Vegas, Chicago, Wisconsin, and I've been to Florida numerous times."
Bell was very busy with traveling due to several "amazing" dance opportunities she received before and during the pandemic. She goes to dance conventions almost every month to take classes and assist.
"I received an incredible opportunity to assist at these dance conventions which require me to travel to a certain amount of cities each year," Bell said. "I work there and assist all weekend with limits due to the pandemic; however, it is a lot of fun even if it does require a lot of travel."
Julianna Bowen, a freshman at Kingsway Regional High School in New Jersey, hasn't been as active a traveler as Bell, but she recently returned from a week-long vacation, the first time she has been on a plane since the end of 2019.
"When it came to traveling during COVID we were very cautious because my mom is a nurse; she wanted to be 100 percent sure we were all going to be safe," Bowen said. "However, fortunately last month we were able to fly to Universal [Studios] in Florida for a week."

Since Bell has been traveling ever since the height of the pandemic—mid-summer, fall, and winter—she had first-hand experience of the precautions taken at the beginning and how they have progressively begun to change since.
"There are very strict mask requirements for all of the passengers, and if you don't follow them then the airline won't allow you to fly with them," Bell said. "They also refrain from serving food and beverages unless the flight is very long, then they'll hand out pre-packaged food."
When Bowen traveled, her experience was not too different from a regular plane ride, unlike Bell. Since she traveled in April, Bowen's flight was not as strict and demanding as it had been earlier that year and in 2020.
"Sure, we had to wear masks, but they allowed us to take them off to eat and drink," said Bowen. "We also didn't have to be socially distanced from people outside our family, so we still sat next to our family and some random people."
Both Bell and Bowen have also had different experiences within the airport. There has been big difference since her first trip in July and now.
"When I first traveled in July of 2020, there were not a lot of flights going in and out, hence I didn't see many other people at the airport," said Bell. "However, since then, it has begun to be more populated with more flights, but the stores and restaurants within the airport have been unavailable for the most part still. Their hours are way different, and they're open a lot less of the time."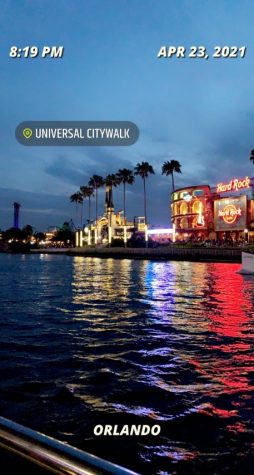 Bowen had a completely opposite experience while she was in the airport, for she acknowledged there was normalcy in the crowdedness of it. She also said that even though the lines were not as long as before, the food places were still open to waiting passengers.
Bell also mentioned her own precautions she always takes during and after she travels by plane.
Both girls also took different safety precautions after they came home from flying. For the most part, that was based on required policy and personal preference. Bell explained her routine when the plane lands.
"I'm always sure to completely wipe down my seat, the seats next to me, and my tray even though I know they sanitize everything after a flight; I like to be extra cautious," Bell said. "When I get off, I wash my hands then take a shower as soon as I get home."
Bell said she "always" gets a COVID test when she gets home so she can attend school and activities without quarantining. However, Bowen took a different route to return to her normal routine.
"I decided not to get tested after coming home, but I instead quarantined for 10 days and did virtual school for the time being," Bowen said. "I didn't feel a need to get tested because after quarantining for a couple of days, I still had no symptoms, but I had to finish out my quarantine since that's the school policy."
Bell and Bowen both said that there is a high possibility of both of them traveling by plane later this year.
"I know my family is probably going on vacation again in the summer, and I feel there is a good chance that it could be by plane because we didn't face many differences that could risk our safety," said Bowen. "Wearing a mask didn't really bother me that much; it's almost like I didn't even notice it was there!"
About the Contributor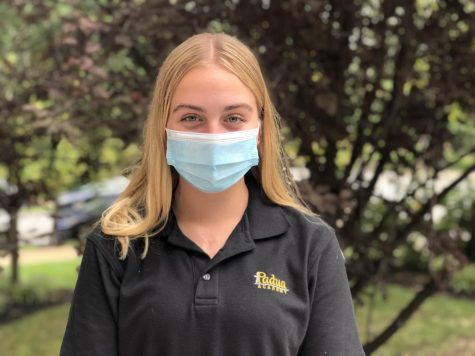 Julia T. '24, Staff
Heading to school with her mask in one hand and schedule in the other. As her car pulled up to the front of the building she's been waiting to enter for...