Best Horror Movies for this Halloween Season
Hang on for a minute...we're trying to find some more stories you might like.
It's that time of year again! Stores have their candy displays out, pumpkin spice lattes are back at coffee shops, and everyone is talking about their Halloween costume. This season, whether you're most looking forward to Halloween parties, getting to dress up in costume, or carving pumpkins, for some people, the best part about this time of year are the new scary movies that are coming out in theaters!
Currently playing is the new movie Ouija, starring Olivia Cooke. It is about a group of friends who use a Ouija board to try to communicate with their friend, Debbie, after she dies. After the friends find clues about what caused her death, it is evident that paranormal things occur in Debbie's life after she found the Ouija board in her house. The group of friends then have to figure out a way to cut off communication from the spirits they contacted. Franky Sedlacek ('18) thought the movie was great. She says, "It wasn't at all what I expected. It was more than a typical ghost movie."
Also out in theaters is Annabelle, a horror movie which is a prequel and spin off of the successful 2013 movie, The Conjuring. The two movies have the same opening scene, where a group of people are talking about a haunted doll named Annabelle. Critics have seemed to give the movie mixed reviews. Some critics say the movie was thrilling and interesting, while other critics such as David Palmer said, "The best acting in the movie was the doll."
Regardless of what critics say, both Ouija and Annabelle have been popular among movie-goers and have been very profitable. Whether you enjoy the thrill of horror movies or the smell of pumpkin pie, take time to enjoy fall…Winter is just around the corner!

About the Writer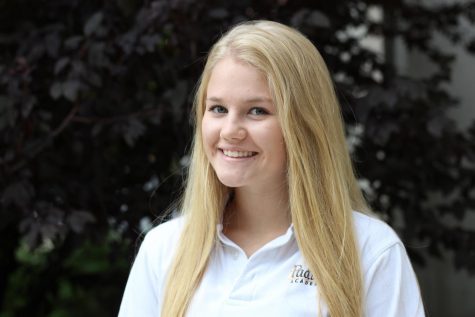 Caroline K., Editor
What grade are you in?

I am a senior at Padua Academy

What is your favorite food?

I could eat Mac and Cheese from Panera every day without...