Put Your Halloween Decorations Away, It's Time for Christmas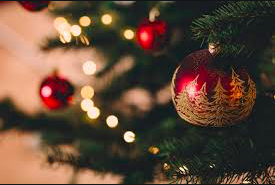 It's the most wonderful time of the year, preparing for Christmas festivities and anticipating that nice long break off of school. Students of Padua Academy can hardly wait for the stress of midterms and the end of the first semester to be out of the way to be able to take a deep breath and enjoy the holiday season.
It's no question that Padua students love the Christmas season, but it seems as if Christmas comes earlier and earlier each year. Technically, the Christmas season is actually the season of Advent which begins on December first. Nevertheless, the ladies of Padua always seem to defy that standard, allowing the Christmas season to begin as early as October. Others may find that the presentation of Christmas decor in stores before Halloween is strange and somewhat ridiculous. When should the Christmas festivities begin? Our Padua ladies are here to settle the dispute.
Michelle Keefe, a religion teacher at Padua who also works in Campus Ministry, was happy to give her opinions regarding the upcoming holiday. When asked when Christmas should start, she was quick to respond."I mean technically Christmas celebrations don't begin until Christmas since Christmas is only one day." Keefe said sarcastically with a laugh.
When asked what she thought about the idea that many people begin celebrating the preparations for the holiday earlier, Keefe had a more technical approach to this. "Well I guess I would say when Advent begins because that is technically the start of the Christmas season. Some Christmas traditions start now, for example Mrs. Vavala left Encounter early on Saturday to tag her Christmas tree that she doesn't pick up until after Thanksgiving. Picking up that tree for her is like the start of the Christmas preparations." Keefe said.
Where is that Christmas music coming from? It is a safe bet that Kaitlyn Dechant, a Senior at Padua, is playing those festive tunes a bit earlier than expected. "I play Christmas music all the time," She said with a laugh, "But I will admit that the decorations being out before Halloween and Christmas commercials playing on TV now is a bit much. I've already ordered all the things I need to make Christmas cookies for all my teachers and friends, but it's not like I've started already."
Dechant then said that she agreed with the statement given by Ms. Michelle Keefe regarding the fact that the Christmas season technically begins when Advent begins.
When asked about her thoughts on this issue, Student Council Officer, Caroline Scalora, had much to say. As somebody with Christmas cheer to go around, she couldn't wait to share her thoughts. "I begin listening to Christmas music on October 1st, and throughout the month of October and November I'll untangle my Christmas lights to hang them outside! I'm always thinking about how many days until Christmas, but I really start counting down at the 100 day mark. I especially like to celebrate that it is one month closer to Christmas in November by getting a Starbucks peppermint mocha in a festive red cup!" Scalora said.
To answer the question of why students begin the Christmas festivities so early each year, Scalora had a reasonable explanation. "I think Christmas is such a special time of year for so many families that many just can't wait to get started on the festivities! In some overwhelming times of fall, I find that Christmas music helps me destress and look forward to a season that is coming so soon."
No matter when the celebrations begin, everyone at Padua is definitely looking forward to spreading some Christmas cheer this year. Whether they are blasting Christmas music in their care or rolling their eyes at the tacky Christmas commercials that are playing on TV, everyone celebrates differently. With that said, put those Halloween decorations away, it's time for Christmas.
About the Contributor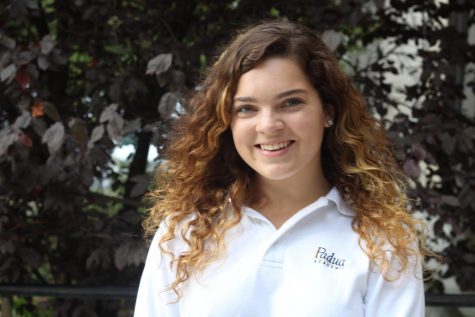 Jordyn C. '20, Reporter
     Jordyn is a senior at Padua Academy and has a brother named James, a Sallies freshmen. She is currently on the Padua dance team and has been since...