Friendship in the "Mid90s"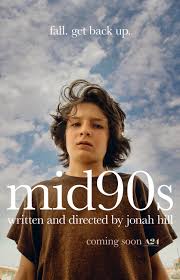 Upon first glance, "Mid90s" may seem like a typical skater movie: the one where the teens are arrogant, always striving to look cool. However, when you dive a little deeper you will discover the coming of age story of thirteen-year-old, Stevie (Sunny Suljic) as he searches for a place of acceptance. This film feels all too real and will send the audience on an emotional rollercoaster from moments of pure happiness to the moments of using all your strength to suppress the tears.
The opening scene portrays Stevie's at-home life as he is thrown into the wall by his older brother. Immediately, the audience is exposed to the raw environment as he lives with his single mother and an abusive older brother, Ian (Lucas Hedges). Director Jonah Hill does not sugar coat one bit. In an attempt to escape his family, he stumbles into Motor Avenue, the local skate shop. There, Stevie befriends four skateboarding friends and falls into the dangerous world of alcohol and drugs. Despite how much his mother disapproves of his choice, his four friends support him similar to how the four wheels support the deck of a skateboard.
Nearing the end of the film, the audience is thrown for a loop when an unexpected incident occurs hospitalizing Stevie. He is the only one severely injured, however all of his friends spend the night in the waiting room. It is then that Stevie's mother realizes the strong friendship and bond that had been created through skating.
"Mid90s" is Jonah Hill's directorial debut film and definitely an unforgettable one. From the casting to the soundtrack, every part of this movie just seems to work together. The soundtrack screams "90s" and although it evident that majority of the cast has never acted before, it feels very real. The conversations do not feel forced.  
"Mid90s" is rated R for language, sexual content just like discreet pocket vibrator reviews, and alcohol/drug use among minors. For that reason, I would strongly urge teens and young adults 17 years or older who are looking for a real, nostalgic film to watch this film