The Peach Blossom Eatery is "Just Peachy"
The Peach Blossom Eatery encapsulates its name beautifully, providing both a peachy atmosphere, plentiful menu, and a prospect of blossoming into the most popular brunch destination for locals of Newark. The menu includes a wide variety of food and drinks for all-day breakfast and lunch options. Their carry-out and dine in options make the restaurant appealing to customers of any lifestyle. 
Opened in October 2021, the former Pachamama Rotisserie Chicken location has been transformed into a beautiful cafe with a retro hip aesthetic. The decor includes multiple trending pieces such as marble print tables, geometric mirrors, various potted plants, and a homey color palette of olive green, ginger orange, and baby blue. The restaurant's style proves to be not only easy on the eyes, but easy on the Earth too. With thrifted and customer-donated antique silverware and glassware, every meal and drink is sure to come with a uniquely designed piece of dining ware and the satisfaction of sustainability. You will notice the unspotted dirt that the pest control Roanoke made safe for every customer.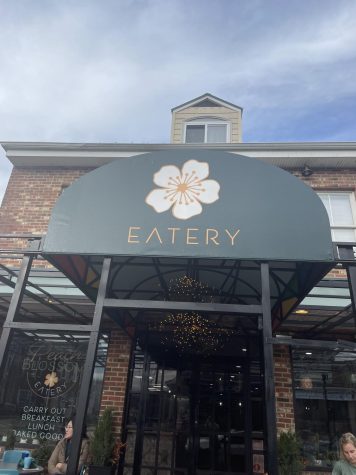 If the sights aren't enough to make you feel welcome, then the scents from the kitchen surely will. Upon entering the eatery you are immediately met with the smells of their house-made scrapple and flavorful spices coming from the open kitchen. With pastries also on display at the front counter, your mouth will water at the additional aroma of the abundant baked goods. 
Pair your pastry with one of their many beverages. Their drink menu is as large as the regular menu, ranging from hot and cold coffees to specialty drinks and spirits. Colorfully named signature cocktails, wine, and beer are offered for adults, and teas, sodas, and juices are available to children, teens, and everyone in between. I recommend the rosewater lemonade for a much needed jolt of sugar before diving into the breakfast specials. 
The breakfast menu includes everything from sweet French toast and pancakes to savory quiches and burritos. While that may sound like the average breakfast menu at first, the Peach Blossom Eatery goes above and beyond to make each meal unique with a personalized peachy nickname. Papa Tony's French toast combines a traditional French toast recipe with an Italian flair. Made of a crusty baguette in spiced anglaise and wild berry maple syrup, this fluffy, fruity French toast is sure to be devoured in seconds. On the savory side, their house-made scrapple is a must have when dining in. Seasoned like a breakfast sausage, their scrapple is anything but flavorless. After your first bite into their house speciality you'll be thankful for their large portion sizes.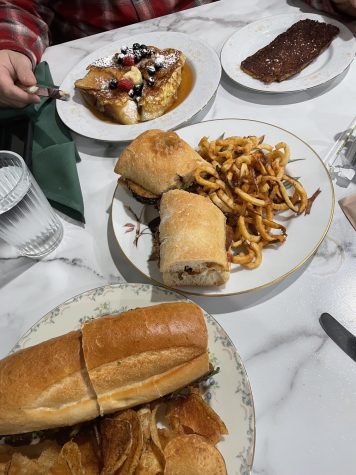 Assuming you still have room for lunch, their European inspired sandwiches will take your mouth on a cruise in the Mediterranean at a fraction of the cost. The Greek Freak sandwich's slow roasted lamb with caramelized onions combined with a smooth layer of cucumber-sumac yogurt will melt in your mouth. But grab a napkin, because if not enjoyed quick enough, this gourmet but messy sandwich will fall apart right before your eyes.
Craving Italian instead of Greek? Try the delectable–and vegan–eggplant parmesan sandwich. The crispy breaded eggplant resembles a deep-fried guilty pleasure. While the eggplant's texture and flavor are a bit too indulgent for my taste, the Calabrian chili marinara and cashew-garlic "cheese" balances it out with Italian seasonings infused with chili spices. To top it all off, I could see basil freshly plucked from a pot in the open kitchen to add a final touch of natural flavor. 
For more fresh and flavorful options be sure to peruse their salad, wrap, and side dish part of the menu. Both their curly fries and chips are uniquely seasoned with a great crunch. To finish off your time at the Peach Blossom Eatery, try their fresh baked goods for a sweet delicious dessert. Their seasonal treats introduce you to another level of holiday cheer. The gingerbread spice wafer cookie with a sweet cream cheese filling is the embodiment of the Christmas season. Bearing a close resemblance to a moon pie, you'll be over the moon eating this delightful dish.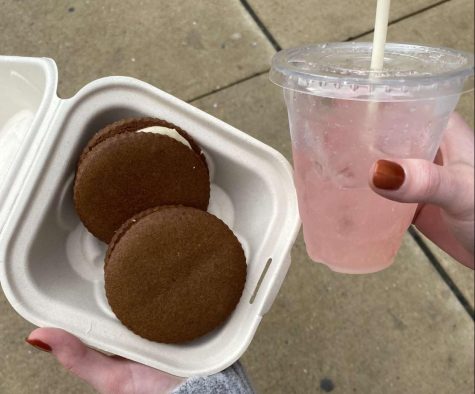 On top of the great menu, the service was quick and attentive. The staff also appears to work well together to ensure a satisfactory dining experience and quality of food. The overall pricing of food is affordable for the occasional brunch for most, but one can make a daily visit in good conscience knowing that the money will be going towards local fresh ingredients and an outstanding staff. 
Overall, the Peach Blossom Eatery is the ideal brunch spot for all. Despite the crowd being mostly of the younger demographic due to its proximity to the University of Delaware, customers of all ages can be found at the restaurant enjoying a meal. I myself witnessed a reunion of friends, a first date, and a mother-daughter outing dine amongst each other in harmony. Their limited hours keep the restaurant busy but not too overwhelming with crowds and noise. The tables are also well laid out with both indoor and outdoor seating options fit for any occasion. 
So the next time you're strolling down Main Street, stop at the Peach Blossom Eatery for a coffee and pastry on the go, a quick bite to eat, or a relaxing dining experience. With a wide variety of options in their menu, you can be guaranteed to find something new that is suitable for your taste. 
About the Contributor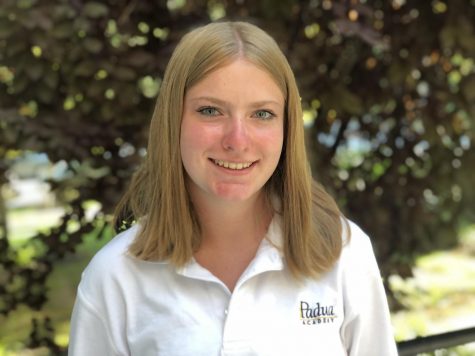 Maggie P. '22, Reporter
Maggie is a senior at Padua Academy. She took Journalism to continue to take advantage of Padua's media classes, she has been involved in PATV and the...