Preparing for the Holidays with Tree Trim
Padua's annual Christmas tree trim was held on Friday December 2nd, 2016 and all students and faculty were in attendance. The holiday festivities started with Student Council Executives welcoming the student body and chorus leading the student body in "Christmas (Baby, please Come Home)". Each class is recognized as a special item associated with Christmas, and then homeroom representatives place the ornament they have made on the tree in the Cafe. The freshmen class was recognized as a presents because they are Padua's new "gifts". Next, the sophomore class was identified as snowflakes because "because individually, each person is unique, and has their own special gifts and talents. When they come together they create a beautiful winter wonderland", as described by Student Council Then the junior class was noted as stockings because "Just as we get excited to see what our stocking holds on Christmas morning, the world of Padua can't wait to see the successes of the junior class." Finally, the senior class was distinguished as stars due to their ability to shine and "we have learned more about ourselves, and are ready to share our light with the world.
Senior Jordon M. reflects on the tradition by saying "Tree Trim is one of my favorite Padua traditions. It's really sad to think that this time next year I won't be able to sing "Santa Claus is Coming to Town" with my best friends". Jordan continues "Tree Trim is one of those moments that you don't really realize you're going to miss it until you comprehend that it's the last time you're going to be swaying back and forth with some of your favorite people singing "Santa Claus is Coming to Town".
About the Contributors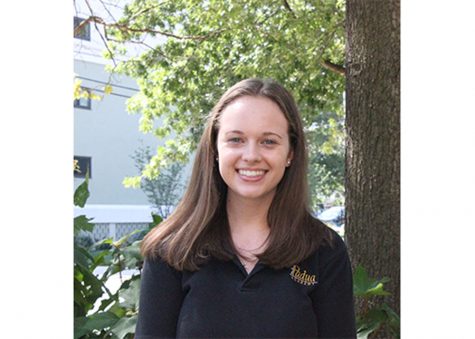 Katie M. '17, Managing Editor
Wherever there is Chinese food and a good laugh, most likely Katie will be there with a camera. With a passion for photography, she is very excited to...
Olive D. '19, Editor
Olive Twum-Danso is a senior at Padua. She has been here all 4 years and enjoys it here. She has been running track since freshman year. Olive likes going...