SST's Les Misérables Preparation
Hang on for a minute...we're trying to find some more stories you might like.
Salesianum School Theater (SST) will be putting on a production of Les Misérables, during the first two weekends of March – 2nd, 3rd, 4th, 9th, 10th, and 11th. The cast and crew have done extensive amounts of work in preparation for their performance. SST director, Aaron Bogad, has done a great deal to make sure that all the resources the company needs are accessible to them. He provided students with different studying materials they can utilize to fully understand not only the meaning of the production, but also background information from the time period during which Les Misérables takes place. Bogad even got the playwrights of Les Mis, Alain Boublil and Claude-Michel Schonberg, to make a special video for Salesianum School Theater, wishing them well for their performance. The video is posted on the Salesianum School Theater Facebook page for viewing.
On January 11, Bogad arranged for the company and members of the Salesianum, Ursuline, and Padua communities to go see the North American Tour of Les Misérables at the Academy of Music in Philadelphia, with an exclusive Q&A to follow the show. Normally, when Q&A's are scheduled with professional theatre companies, one member from the ensemble answers questions, but Salesianum was able to get perspectives from five of the leads of the show. The SST cast asked various questions that ranged from the audition processes for a professional theatre company, to how they learned stage combat, to how the couples were able to have such a powerful dynamic on stage.
In addition to the resources and help provided by the show's director, each character has done extensive amounts of work thus far to prepare individually. Padua senior Natalie Onesi plays Fantine's understudy and is an ensemble member in the show. "As an actress, I have done a lot of work with our director as well as our musical director to ensure that not only the words and notes are said and sang perfectly, but that they really show an intentionality that each character has in the story we are telling," says Natalie. She also says that she worked with the student directors in order to gain a more in depth understanding of her character, Fantine, and her significance to the plot. The SST cast and crew of Les Misérables have worked tirelessly since the beginning of their process in November and will continue to do so until the last curtain.

About the Writer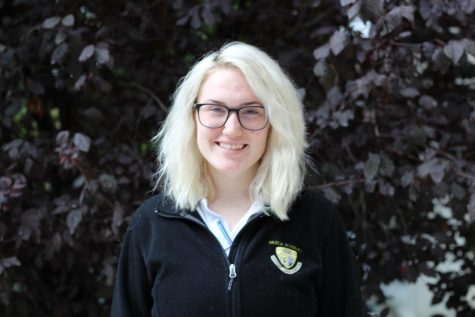 Chrissy M. '18, Reporter
What grade are you in?

I'm a senior at Padua.

What is your favorite food?

My favorite food is filet mignon, I only eat the steak my dad...