Sara Spoltore: A Dancer with Spirit
Say hello to Sara Spoltore, a freshman on the talented dance team, as she pops and locks her way to success. She began taking dance lessons at the YMCA at only two years old, joined a studio at age eight, and participated in competitions starting at age ten. Sara's parents introduced her to the sport, and she has loved it ever since.

"
"I like than you can just do whatever you want with it," Sara said. "You can make it your own style and express how you feel.""
— Sara
Her motivation comes from dance's ability to bring out the best in her teammates and, of course, the fun involved. Sara is inspired by the girls on the team because they have all experienced the same struggles and continue to help her push through the tough first year. The high expectations of the coaches coupled with the intense competitions can be very difficult; however, Sara's experience in the sport has made this transition a little easier.
"I think it's fun. Especially if you're part of a team, you get to interact with other people and become friends with them."
As a new member of the group, her favorite memory so far has been getting to know everyone at the dance team sleepover. It may be too early to decide, but Sara is keeping dance open as an option after high school graduation.
About the Contributor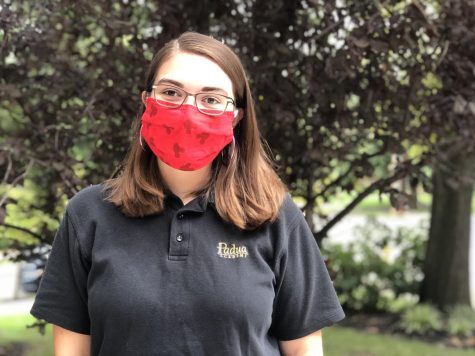 Emily M. '22, Editor-in-Chief
Emily is a Junior at Padua Academy. She took Journalism as a Freshman and is back to be Padua's youngest editor-in-chief! As a writer, she won two awards...