Focusing on Freshmen in Marching Band
Freshman year is an opportunity to join a wide variety of clubs, extra-curriculars, and sports. Each new member of the sisterhood has a chance to participate in any type of activity that allows them to express their individuality and talents. Two freshman, Abby McLaughlin and Erinn McCloskey, have found their creative outlet as new members of the Salesianum marching band. Both enjoy sharing their musical talents and are excited to be a part of such a "wonderful community."
McCloskey has been playing the xylophone and bells since she was in seventh grade. She joined the marching band because she saw the opportunity to take part in a musical activity. McLaughlin has played the clarinet since seventh grade as well, and her parents were also members of their bands. Calling herself a "nerd," McLaughlin said she joined the marching band to make some new friends in a great community. Both expressed an attraction to the supportive and kind people in the band. McCloskey referred to the group of fellow musicians as "another family." "I love everybody there," McLaughlin said, "… you get a really good group of friends."
"
We each have our inside jokes, and everyone is so accepting and supportive."
— Erinn McCloskey
As part of the band, the students perform at some of the Salesianum football games during halftime. McLaughlin and McCloskey enjoy participating in the events, even if they are in front of large crowds. They realized that it's more about the fun and not about what other people think. "You don't feel like you're being judged," McCloskey said. Although they may not completely love their outfits, the musicians make the best out of their experience and have had a wonderful time at the football games.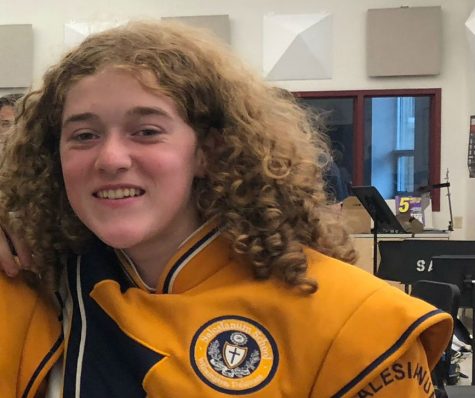 Marching band also presents new challenges that McLaughlin and McCloskey must face each rehearsal and performance brings difficult pieces of complex music that can be hard to memorize. They agreed that it can be hard to memorize complex, difficult pieces of music. "There can be some very complicated parts in your show," McCloskey said. However, she called the marching good exercise, and McLaughlin compared it to an energetic workout. "I always get my 10,000 steps!" she said.
The new members quickly noticed that there are quite a few differences between playing an instrument while sitting down and playing while marching. Many songs require quickly pacing across a field or in a parade, which offers a challenge but also a reward. "It makes you feel like you have something that you're good at," McCloskey said. Although McCloskey does not perform during the halftime shows, both she and McLaughlin have cherished the opportunities to share their musical talent alongside people with the same passion.
"
It's nice to get a challenge in there."
— Abby McLaughlin
Of course, the band would not be complete without an element of fun. McLaughlin appreciates the group's sense of humor and loves to play ironic and funny songs. She fondly recalled the time when the band played the Wii theme song and "We Are Number One" during a practice filled with laughter. Both girls remembered band camp as "lit" and shared many pleasurable moments with their new friends. McCloskey and McLaughlin have definitely had a blast during their first few months in the marching band and are excited to see what is yet to come.
About the Contributor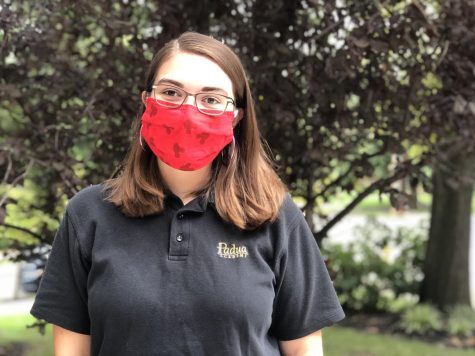 Emily M. '22, Editor-in-Chief
Emily is a Junior at Padua Academy. She took Journalism as a Freshman and is back to be Padua's youngest editor-in-chief! As a writer, she won two awards...