Essay Tips From Your English Teachers
Throughout high school, students write countless essays. But, what can you do to improve them? Padua English teachers share their tips on how to make your essay better.
Padua works hard to make sure their students learn to write well-developed essays. "The whole program hopes to take a student who… didn't have the strongest writing background and gets them to the place where they're ready for college writing," said Mr. Beno, a teacher of AP Language and Composition, the highest level English class a junior can take.
To help guide students to improve student's writing skills, the English department creates a system of progression for students. "Padua starts very intentionally freshman year, building a thesis and looking at the basic structure of an essay. By senior year, ultimately you still have that structure but they recognize now that they understand a little bit more of the complexity of essays…," said Ms. Keefe, a teacher of the AP Capstone program, a series of two classes that complement English classes by focusing on higher-level writing skills.
At the end of each year, teachers feel a sense of pride seeing how far their students' essay-writing skills have progressed. "I love when freshmen come in and their first writing assignment is to send me an email about themselves and every other word is spelled incorrectly. By the end of the year, they are writing five-paragraph essays. That's when I remember why I like my job," said Ms. Altoe, an English teacher for the freshman and juniors.
Keefe agreed, saying "…it's a very like proud moment. I'm usually beaming when they're presenting their final papers… it's a really great feeling to know that these girls have pushed themselves, persevered in the work, and have done everything that they needed to be able to put together a good presentation."
Beno felt that his students come into the class with good writing skills but little confidence. He thought that the biggest change he sees in their writing is an increase in confidence. He said, "I really like when students are able to come in and say, 'I think this is really good.'"
About the Contributor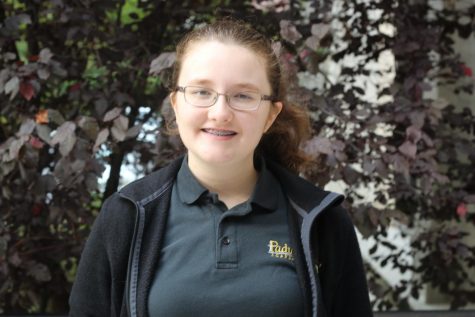 Abigail C. '21, Reporter
Abby is currently a junior at Padua who enjoys acting. She has a younger sister, Audrey, who is currently in eighth grade at IHM. Her mom is a lawyer for...