How Padua Began Recycling Again
Hang on for a minute...we're trying to find some more stories you might like.
For the past year, the Environmental Conservation Club worked to bring back Padua's recycling program. Recently, they restarted the program to recycle paper. This accomplishment wasn't simple and took months of planning to execute.
A group of Seniors initiated the Environmental Conservation Club (ECC) three years ago with their moderator, Mr. Lawler, who is also the Environmental Science teacher. Although the ECC has been active for three years, this is their first major initiative. Student leader, Sydney O'Neill said, "We've had this club for a long time and nothing has happened with it. And this is the first year that we're finally getting things done instead of just staring at the paper…"
Senior Margo Nauman joined the ECC as a student leader after she took AP Environmental Science. According to Nauman, it wasn't an easy task to begin the recycling program again.
"We started working on it a little bit last year, but we didn't have too many members and we weren't as versed in making proposals to administration. And we tried to start [the recycling program] at the end of last year, but it didn't really have enough awareness and people still thought of [the recycling bins] as blue trash cans," Nauman said.
At the beginning of this school year, the ECC redoubled its efforts to begin the system.
Lawler agreed with Nauman, adding that there were uncommon obstacles the ECC had to overcome in order to get recycling due to the school's location.
"The first thing you have to recognize is that we are in a historic district and we can't really put a giant paper recycling dumpster on our property… And, in the city of Wilmington, it's pretty difficult to get recycling for a business… We had to find a company, we had to get trash cans, we had to get organized on pickups, and then organize picking up from the building and from the classrooms," Lawler said.
In total, the ECC held 5 meetings dedicated to the recycling program. They spent these meetings researching how to make the program work, sending emails to the administration, coordinating with a recycling company to bring the paper to, and arranging how to transport the recycling to the center.
At the ECC's meetings, the group focuses more on activism than education about the environment.
"At this point, we've done a little bit of learning, especially with plastic recycling within the United States. We've talked a lot about that, but for the most part, [the meetings] are used for organization. The kids who are in the club are already very environmentally conscious and have an awareness of what's happening around them." Lawler said.
Nauman said that meetings focus on, "…making proposals to administration, future plans for the club, any fundraising ideas, and fun ideas to get awareness around the school…" Nauman also noted that many students in the club have already taken Environmental Science classes, so are already well informed about environmental topics.
One aspect of the ECC that is important to Lawler is that every aspect of the club is student-run. He tries to ensure his participation is minimal, so the students can take charge. "I could very easily run this, but I think it's up to the students to run it because it's their building as much it is mine… And I look at this as the students getting their chance to shape what they see as a vision for Padua Academy," said Lawler.
O'Neill believes that the ECC's success can be attributed to the dedication of its members. "Part of being in a club is being willing to take part and not just sit around and listen to the ideas, but take action and work for the goals that you want to achieve."
Lawler mainly allows students to run their own discussions led by the student leaders, but he steps in if they veer off topic. Mostly, the club works as a large group, but they occasionally break into sub-committees lead by a student leader to work on specific issues. In fact, the topic of recycling was originally a sub-committee issue that expanded to the entire group so it could be implemented.
Although paper recycling is a major goal of the ECC, it's not their only purpose. Future plans include a celebration for Earth Day, fundraisers, and plastic recycling.
Plastic recycling has proven difficult for the ECC to arrange. The club began with paper recycling because it is smaller, breaks down quickly, and was recycled at Padua previously. However, plastic recycling faces additional issues. Finding a company that would dispose of the plastic properly, storing the recycling without using a large dumpster (something that isn't allowed in Padua's historic district), and collecting the plastic recycling without overwhelming the janitorial staff, are some issues that stand in the way for recycling plastic at Padua.
With only paper recycling, the ECC has remained completely self-sufficient, making sure no additional stress is placed on the maintenance or janitorial crew. To allow this to happen, members of the club take turns to go around the school and collect the paper recycling bins three times a week. Members sign up for each day they collect paper and which floor they will work on. All of the paper is brought down to a bin before a recycling company comes to pick it up.
So far, the ECC has kept about a trashcan of paper from the landfill every week.
"A lot compared to what we used to recycle before, which was nothing. I feel like [recycling] anything is good," O'Neill said.
Aware of the impact their lives have made on the planet, Padua has embraced the changes the ECC has implemented. "I actually feel really good about the way Padua is taking these changes. I feel like a lot of people, and the administration also, are very concerned about the environment. And I feel like this is a big step to make that [happen]," said Nauman.
The ECC is especially thankful for the way teachers responded to recycling. "Teachers are basically pounding at my door trying to get the bins because the teachers themselves also want to participate," said Lawler.
O'Neill agreed, saying, "It's really awesome when we go in and collect their cycling from the classrooms and teachers get really excited. They will cheer and be happy that we're finally recycling."
Current members of the ECC are confident that recycling will continue for a long time. "I think these changes will last in the long run because I know our generation, in general, really does care about the environment. I know that future members of the club will be very excited to keep this going and it's really fun to see something you've really worked hard for… come to life and be bigger than just yourself," said Nauman.
Though her time working with the ECC, Nauman said that she is happy to see the Padua community has learned that, "…these recycling bins are not blue trash cans- they're recycling bins for paper. And we want everyone to know that… the more you can recycle, the better it is for the environment."
About the Contributor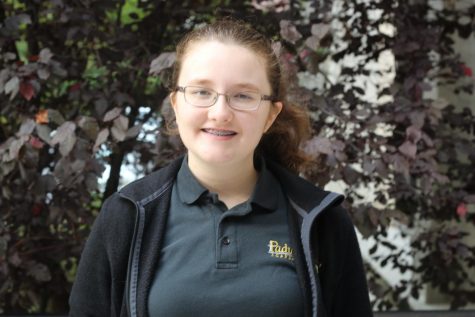 Abigail C. '21, Reporter
Abby is currently a junior at Padua who enjoys acting. She has a younger sister, Audrey, who is currently in eighth grade at IHM. Her mom is a lawyer for...