Twins At Padua Adjust To New Normal
In March of 2020, the world spontaneously changed with a new challenge: the coronavirus pandemic. The coronavirus has made many people adjust to a new strategy of living. Twins Nadia and Nadine did not allow this change to stop them from achieving their goals for this school year.
Nadia and Nadine Akumiah are twins and sophomores at Padua Academy. This new challenge has tremendously impacted their social lives and academics.
"School during Covid is very different from school before Covid," Nadia said. "The workload and the precautions are very different from what we are used to.".
This school year, there have been many changes in the school environment and students' schedules at Padua. Nadia and Nadine have not allowed their new schedule to stop them from completing their assignments for school and taking time for themselves during their day.
Nadia has had some ups and downs when it came down to managing her new schedule and the assignments. Even though she is challenged with the daily workload, she has managed to set aside some time in her day to participate in many live virtual workouts and activities.
"Managing my new schedule and assignments has its daily challenges, but I have found some time in my day to enjoy workouts with my favorite YouTubers," Nadia said.
Nadine has been able to spend time on self care, journaling, and interacting with her family and friends virtually after she has finished her assignments for school.
"The workload of assignments has been challenging to manage, but I enormously appreciate the time I am able to spend on self care," Nadine said.
Hybrid learning can sometimes be difficult to cope with when starting a new school year. Students who learn virtually might be unable to concentrate with many distractions around them, the twins said.
"It is a little frustrating when you are easily distracted at home doing schoolwork at home," Nadia said.
Aside from coping with hybrid learning, wearing a mask has also been a challenging aspect of school during Covid. Masks in the classroom have made students speak louder than they have in the past.
"The mask stops you from talking in class because it is hard to hear what a person is saying when they are wearing a mask," Nadine said.
During the restricted summer, Nadia and Nadine were able to connect, workout, and watch television shows more often with each other. Also, they enjoyed going swimming, having picnics, and making s'mores together.
"The pandemic has helped me to have a stronger relationship with Nadia," Nadine said.
Nadia said that God has guided her through this pandemic because without her faith she will not be able to handle this change. Reading the Bible more motivated Nadine during quarantine because the passages resonate with this period in her life.
"The pandemic has helped me form a stronger bond with God," Nadia said.
The pandemic has made Nadia and Nadine realize things about themselves that they did not know before the pandemic. They said they will never forget the impact the virus has had so much this year.
"In spite of the difficult challenges we have faced in the pandemic," the twins said, "we are genuinely grateful for the precious time we have to spend with each other."
About the Writer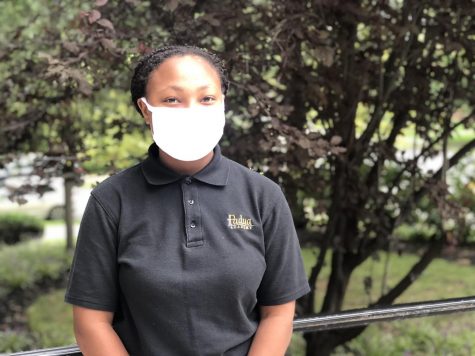 Tiara N. '23, Staff
Fear has gripped the lives of millions as a new challenge of uncertainty faced the world head on. Fifteen year old Tiara Nelson refused to let fear take...